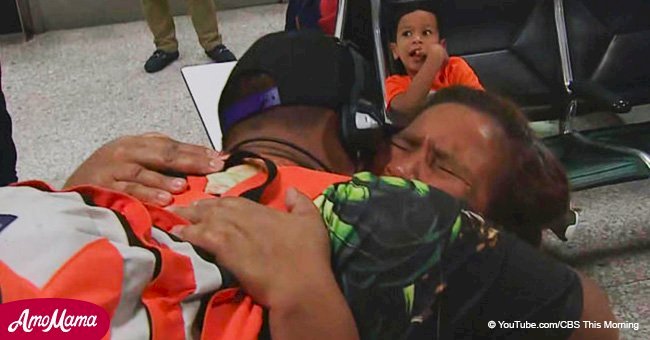 Mom breaks down when reunited with 11-year-old son who was detained for 6 months

Last Saturday, one woman fell to her knees, overwhelmed, when she was reunited with her son at Washington Dulles International Airport.
Karen Yadira Rodriguez Gutierrez was beside herself with tearful happiness during the emotional reunion. The event once again brought focus to a hardline immigration policy which appeared to be more strictly enforced during Trump's administration.
The boy allegedly attempted to claim asylum at the US-Mexico border before Immigration and Customs Enforcement detained him for six months. He had crossed over with his undocumented grandmother.
The video of the reunion is found below.
Follow us on Twitter for more @amomama_usa.
Gutierrez was reportedly already residing in Virginia legally as an asylum seeker from Honduras. She was with her son for two days at the start of his detainment. Then the detention center officials separated the pair.
Gutierrez later filed a lawsuit against Trump's administration. This led to the release of her son and the heartwarming video posted by CBS.
The response to Trump's "zero-tolerance" policy has been highly mixed. Initially, several families were separated at an increased rate than before. Thereafter, things slowed down. But many already felt the impact and are still doing so.
Currently, efforts are being made to reunite relatives who were separated several months ago, but it's proving to be a challenge due to inaccurate contact information.
Although some believe that Trump's administration is the first to push the ICE detention policies, this is not so. The administration is only the first to actually separate families.
The previous administration kept detained families together in custody. And before that, Bush's administration simply made exceptions for adults who were accompanied by children.
The progression is not one that most favor. President Trump himself said, "I hate the children being taken away." However, he blamed the Democrats saying that they "have to change their law, that's their law."
Despite the backlash to the policy, many are still showing their respect and appreciation for President Trump, regardless of surrounding issues.
Just last week, we saw even the youngest American citizens displaying their adoration by imitating the POTUS and the first lady Melania Trump.
Annabelle and Zack Wilson's daughter Adeline took on the role of FLOTUS for "Billionaire Day at their daughter's Mississippi school.
The self-described "All American Family" paired with another mother at the school.
She dressed up her son Brantley as none other than Donald Trump himself for the special day. The pair looked adorable in their getups.
Please fill in your e-mail so we can share with you our top stories!