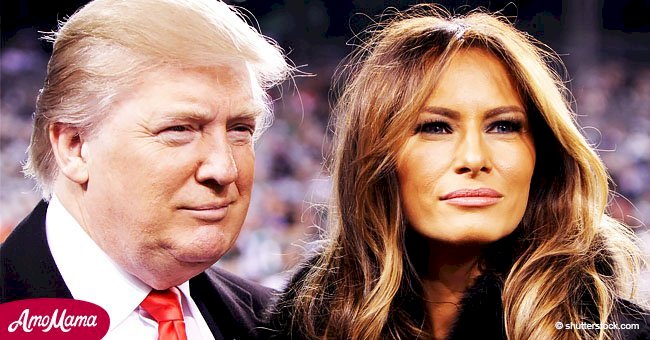 Donald and Melania Trump was copied by two kids which became their cutest version

Annabelle and Zack Wilson are incredibly proud parents because their daughter is the most adorable FLOTUS and she's with the cutest POTUS, too.
According to the Advertiser, the traditional couple calls themselves an "All American Family." Zack works at an oil company while Annabelle works in accounting.
The adorable photo of their kids was posted by KTVE to Twitter and can be found below.
Follow us on Twitter for more @amomama_usa.
The parents have busy lives, but they also have their priorities straight. When "Billionaire Day" was approaching at their daughter's school in Natchez, Mississippi, the couple was sure to go all in with creativity.
"We love to dress up at any opportunity and push our creativity to the limits," Annabelle said.
She worked with another mother at the school to bring out her eye-catching family project. The two dressed up their children, Brantley and Adeline, as President Trump and his wife, First Lady Melania Trump.
Annabelle explained what inspired her:
"We are proud to be Americans and live in the greatest country in the world."
This was patriotism at its finest. It was also a reasonable investment for the small occasion.
Annabelle divulged that "Brantley's Donald Trump outfit was put together from Amazon Prime and Adeline's Melania suit was custom made by mom from leftover felt fabric on the clearance aisle."
Adeline, who is only four, has a new sister who is now just three months old.
We wonder if the two's initial meeting was similar to the adult POTUS and his wife. Did little Adeline also refuse to give President Brantley her number?
Donald Trump had famous adversaries at his wedding including Hillary Clinton. We wonder if the toddler pair had any rivals at their mini-nuptials.
Kids will be kids so there have probably been some squabbles. And like the incident just earlier this month, there will probably be lots of silly faces being made when President Brantley gives his speech on the big day.
Trump held a rally at the Rimrock Auto Arena on September 6. There were some supporters in the crowd but there were also some "silly" faces being made for excusable reasons.
Now referred to as "Plaid Shirt Guy," 17-year-old Tyler Linfesty made some interesting faces as he listened to the President's speech.
"I wasn't planning on trolling him or protesting. When I heard something that I disagreed with, I visibly disagreed."
Indeed, viewers made out his disagreements with his lip movements and his expressions. Before long, Linfesty was actually removed from the event as he was not acting in line with management's expectations.
Please fill in your e-mail so we can share with you our top stories!