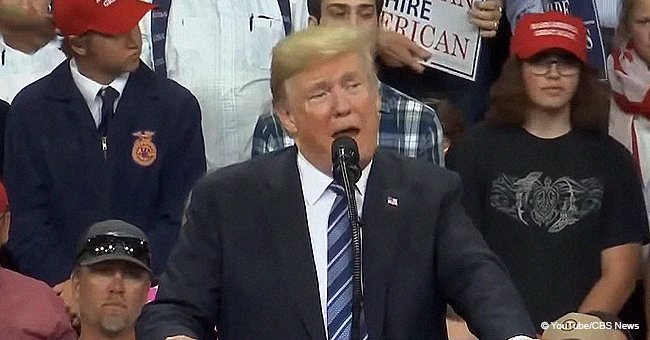 'Plaid shirt guy' becomes a viral sensation during Donald Trump's rally

A spectator disrupts the President's speech and became a media star
When President Donald Trump made his speech at the Rimrock Auto Arena on the 6th of September in Billings, Montana, no-one expected that it would go viral on Youtube.
A video of the President's speech is blowing up the Internet, but not because of his statements. As the President spoke, a young man in the audience standing directly behind him showed by his every expression his feelings about what Donald Trump was saying.
His performance turned a high political speech into unintended comedy.
"I wasn't planning on trolling him or protesting. When I heard something that I disagreed with, I visibly disagreed."
Tyler Linfesty, NDTV.com, 10th of September 2018.
At first, everything seemed to be going as planned. The President was received with vociferous approval by a crowd wearing the trade-mark red Make America Great Again hats of the die-hard Trump adherents.
Behind the President was a group of enthusiasts waving blue Trump-Pence placards, clearing approving every word he spoke.
One face stood out from that crowd. Directly behind Donald Trump, Tyler Linfesty expressed his incredulity at the President's statements.
Linfesty, a 17-year-old senior from Billings West High School wore an eye-catching plaid shirt, a hand-me-down from his brother.
Read more about "The Plaid Guy" on our Twitter account @amomama_usa.
The young student's expressive face telegraphed his feelings about what he was hearing.
Trump stated: "We have the best economy in history!" - something that has been verified as inaccurate - and Linfesty and looked at his friend in surprise and clear disbelief.
As the President proclaimed that "The stock market is at record highs, and unemployment is at record lows," Linfesty raised his eyebrows ironically and chewed his lip.
Trump stated proudly: "And more Americans are working today than ever, ever, ever before!" Trump stated - and behind him, Linfesty mouthed: "Is that true?"
Linfesty comic expressions started to be noted by people watching the speech, and also by the organizers of the Trump rally, who had him discreetly removed.
Linfesty said that Secret Service agents escorted him to an area at the edge of the auditorium, asked him for his ID and held him for 10 minutes before asking him "in a nice way asked me to leave and not return."
It was too late. The video had captured the attention of thousands and is quickly becoming one of the President's most-watched speeches for all the wrong reasons.
Linfesty has become a media star known to all as "The Plaid Guy" and has been asked to guest at several prestigious talk shows, wearing the plaid shirt, of course.
If you enjoyed this article, read the following:
Melania Trump starts falling in her boots, but President Trump catches her
President Trump makes light of rumors around Melania's facelift
Please fill in your e-mail so we can share with you our top stories!