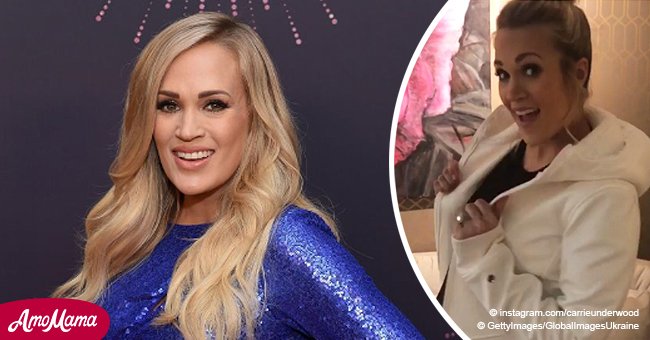 Carrie Underwood teases fans with a glimpse of her round baby bump just weeks before due date
Soon-to-be mom Carrie Underwood is glowing and blooming as her due date draws near.
Carrie Underwood's baby bump is growing and glowing and she's not shy about flaunting it.
The country star will be giving birth to her second son early in 2019, and she gave fans a teasing glimpse of her baby bump in a video posted on Instagram to promote her leisure wear line, Calia by Carrie Underwood.
Read more on Twitter Amomama USA. Underwood wrote in the caption:
"Feeling the warmth in my new @CALIAbyCarrie embossed soft shell coat! #StayThePath #JacketWeather," the "Love Wins."
UNDERWOOD LOOKS STUNNING IN PROMO VIDEO
The video shows the country star with her back to the camera, wearing a white coat with a hood, and looking flirtatiously over her shoulder at the camera.
With a teasing smile, she turns and shows the tiniest glimpse of her cute baby bump clad in a black sweater.
Underwood's hair is swept up on top of her head, with a few casual curls tumbling down around her cheeks.
Maddie & Tae will be opening for Underwood's 2019 "Cry Pretty" Tour which will begin in May, after the country star's maternity leave.
FANS WERE CHARMED BY HER BABY BUMP
The sight of the singer's baby bump charmed the fans who left enthusiastic and encouraging comments for the expectant mom:
"Peep that adorable belly! Love you girl."
"I spy a beautiful belly! Freaking adorable! Love the bump!"
This wave of adoring approval comes just days after the star apologized to a fan for looking "swollen and huge."
TOUR MATE LET SLIP UNDERWOOD'S DUE DATE
Underwood's tour colleague, Taylor Dye – part of the country duo Maddie & Tae – let slip a piece of information the fans have been aching for.
According to Taylor, Underwood's baby is expected sometime in January 2019. Taylor quipped that she and Madison "Maddie" Marlow have already offered to babysit.
Maddie & Tae will be opening for Underwood's 2019 "Cry Pretty" Tour which will begin in May, after the country star's maternity leave.
CARRIE UNDERWOOD'S CHRISTMAS BEFORE THE BABY'S BIRTH
Carrie Underwood is getting ready to celebrate Christmas with her son Isaiah, 3, and her husband Mike Fisher, and it will be their last Festive Season as a trio.
The 35-year-old Underwood is expecting the couple's second child, another boy, but her son Isaiah seems to be less than impressed by the prospect of sharing mom.
"[Isaiah] told me recently that when the new baby comes that Daddy could have that baby and then he could be mine."
Underwood cautiously announced her pregnancy on Instagram in August when she was already 4 months along.
In September, Underwood revealed that she had gone through a nightmarish three miscarriages over the last two years, and the successful pregnancy had put her "over the moon."
Please fill in your e-mail so we can share with you our top stories!