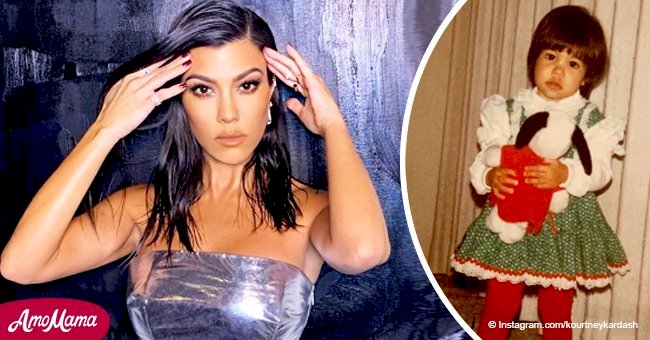 Kourtney Kardashian wears 'killer fits' in rare childhood photos bringing Christmas to her fans

Kourtney Kardashian felt nostalgic as she posted adorable pictures from Christmas spent as a little girl. And it may be some of the last pictures she posts for a while.
Backtracking to a time when milk and cookies got left out for Santa before you tried not to go to sleep and Kourtney was four years old.
Captioning the pictures, Kourtney joked, "Killer fits from day 1." In festive colors, Kourtney posed for the camera with a dress that easily could have come out of an Octoberfest wardrobe.
In some of the pictures, she is alone and in others with family members. The day was not all magic and wonder, as the tears were flowing in some of the throwback snaps.
In another picture, Kourtney opted for a wardrobe change and decided to give the 'little red riding hood' look a try.
Followers adored the pictures, prompting many to think back to their own childhood Christmas's. Perhaps this was Kourtney's idea of replacing the Christmas card she agreed not to have this year.
It got decided not to have a card since it caused a big family fight last year, in ways that only the Kardashians can trash each other things escalated when Kim called Kourtney the "least interesting to look at" of the sisters.
None the less, fans loved the throwback pictures and hoped for more to come. However, it seems that time is running out on that, as Kim Kardashian, Kourtney Kardashian, and Kylie Jenner announced on their websites that they would be shutting down their apps in 2019.
Kim Kardashian wrote on her site:
"We've had an incredible experience connecting with all of you through our apps these past few years but have made the difficult decision to no longer continue updating in 2019. We truly hope you've enjoyed this journey as much as we have, and look forward to what's ahead."
Just last month Kourtney shared another revelation. She may be single after her separation from Scott Disick, but the 39-year-old Kourtney is considering having more children.
Kourtney has been taking hormone shots to stimulate ovulation so her eggs can be harvested for cryopreservation. Admitting to being open to having another child with her ex, Scott Disick, Kourtney said:
"I feel like I would [have another baby with him] if the situation was right. But that doesn't mean, like, tomorrow, guys. So don't get any ideas."
Please fill in your e-mail so we can share with you our top stories!