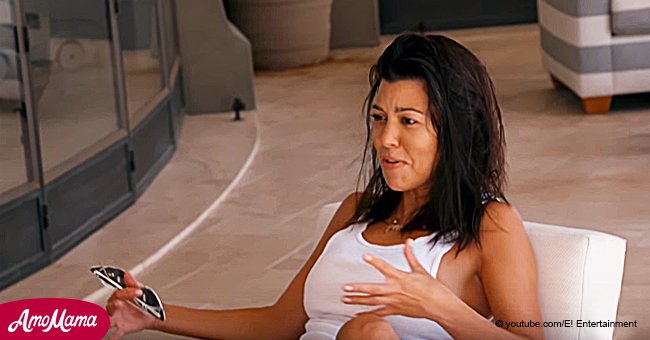 Kourtney Kardashian freezes her eggs just 'for safety' but she doesn't want any more kids yet

Kourtney Kardashian is taking hormones to stimulate ovulation and harvest her eggs.
In the latest episode of the hit reality show "Keeping Up With The Kardashians", reality star Kourtney Kardashian revealed that she is contemplating having more children.
Kourtney, 39, is the oldest of the Kardashian sisters and separated from Scott Disick, the father of her 3 children in 2015.
"I've been so up and down emotional because I've been doing the shots for the egg freezing. It's like crazy. I feel like I want to jump out of my skin. I'm so crazy, I can't take it."
Kourtney Kardashian, "Keeping Up With The Kardashians" , November 30, 2018.
KOURTNEY'S BID TO BE A MOM AGAIN
It might be Kourtney's age and her current single status that has prompted her to take steps to preserve her fertility. Kourtney has been taking hormone shots to stimulate ovulation in order to harvest eggs for cryopreservation.
In the clip posted on YouTube on November 30, 2018, Kourtney showed off her bruised belly to her friends and revealed that the hormones were affecting her emotionally.
KOURTNEY: "THE HORMONES HEIGHTEN EMOTIONS"
Kourtney admitted that the actual shots didn't bother her, as she has a high tolerance to pain, but she struggled with the emotional rollercoaster triggered by the hormones:
"Some days I would feel so anxious. it's just very emotional so that I think is the hard part."
KOURTNEY ADMITS TO CONSIDERING HAVING ANOTHER BABY WITH DISICK
As to who the possible future baby's father might be, Kourtney surprised fans by admitting she would consider having another child with her ex, Scott Disick:
"I feel like I would [have another baby with him] if the situation was right. But that doesn't mean, like, tomorrow, guys. So don't get any ideas."
Kourtney and Disick share three children: Mason, 8, and Penelope, 5, and Rein, 3. Disick is currently dating model Sofia Richie, 20, the daughter of legendary crooner, Lionel Richie.
Read more on Twitter Amomama USA.
KRIS JENNER IS ALREADY THE GRANDMOTHER TO 8 CHILDREN
Kris Jenner is a lucky woman. She has now welcomed her 8th grandchild, True by her daughter Khloe Kardashian, born on April 12, 2018.
This has been a good year for Kris. who was presented with granddaughter Stormi by her youngest daughter, Kylie Jenner. Stormi was born on February 1, 2018.
Kim Kardashian has now given her mother with 3 grandchildren, North, 5, Saint, 3, and Chicago, born on January 15, 2018, by surrogacy.
Kris' only son Rob Kardashian is the father of Dream, 2, whom he shares with model and TV personality, Blac Chyna.
Kourtney, the oldest of Kris' children has three children: Mason, Penelope, and Reign - and has hinted she plans to have more. The only one of the sisters who hasn't had a baby yet is Kendall Jenner, who prefers to keep her personal life private.
Please fill in your e-mail so we can share with you our top stories!