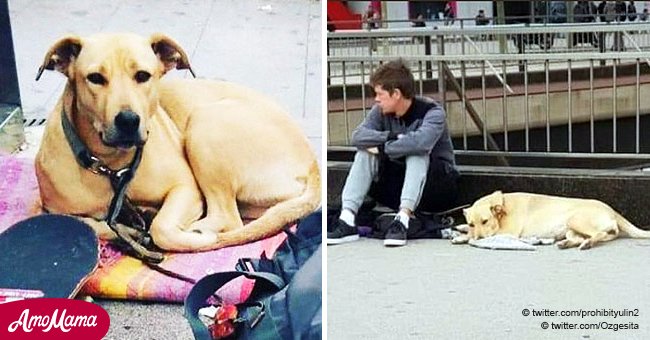 Outrage after policeman publicly shot a homeless man's dog in Barcelona

The controversy was generated in Barcelona, Spain over an incident with a policeman that ended with a pet dog shot dead.
On December 19, Telecinco reported that an officer from the Barcelona Urban Guard killed a dog that, according to the local authorities, had bitten him.
The death of the animal happened minutes after the encounter between the law enforcer and the dog took place. Read more on our Twitter account @amomama_usa,
Because of these events, the Animalist Part Against Mistreatment of Animals (PACMA) called a protest that afternoon in the county capital after checking the facts from a video shared on social media.
The breed of the animal is considered "potentially dangerous" so the agents proceeded to identify its owner since the pet was unattached and without a muzzle.
As the member from the Urban Guard briefed, the dog had jumped on the agent, biting his arm, leaving him no other option but to open fire against it.
The owner of the animal reacted by assaulting the agent, which resulted in the man's arrest. Despite the public outrage over the incident, the Urban Guard defended its member's actions.
The police department insisted that the officer acted "in defense of his physical integrity," and while they lament the death of the animal, they denounced that the officer is currently on leave with a concussion and broken teeth.
A similar case happened on American soil when a family from North Carolina complained about a Reidsville Police Officer who shot and killed their dog Auger for no apparent reason.
As the Paschal family told the press, they were doing some fence work for the police department and took their Australian cattle dog along, as they had done previously on several occasions.
According to the Paschal's, the officers were familiar with Auger and had even played with him prior to the unfortunate incident.
"He took my best friend Auger for no reason. Complete cold blood, and the only thing he could say was I'm sorry. I'm sorry. I'm so sorry. And he kept on saying that and saying that," Kevin Paschal shared.
Animal advocacy keeps gaining strength as people develop awareness about animal suffering and try to have a kinder relationship to our furry friends.
This is why these kinds of actions rarely go unnoticed anymore.
Some people are willing to do anything to protect innocent animals from harm, but sometimes there is a price to play, as Robert Wilson from Tennessee experienced in an incident that cost his life.
As his girlfriend told the press, all that Wilson did was trying to talk a stranger into stop abusing his puppy dog, which resulted in the violent man shooting him to death.
Please fill in your e-mail so we can share with you our top stories!