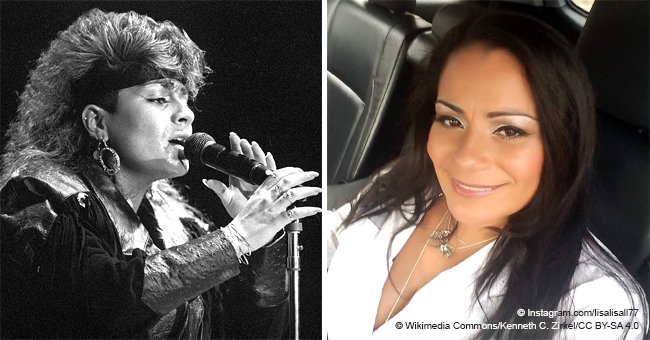 Remember 80's singer Lisa Lisa? She looks amazing at 51 and has a beautiful family
80's singer Lisa Lisa shares beautiful photos of her family. The former hit singer has taken on the role of a mother very well.
Lisa Lisa, a famous singer from the '80s, has constantly been sharing photos of her and her beautiful family. From her daughter to her son, to her sister, she has shown so much love for all of them on social media. The 51-year-old aged beautifully as manifested in her Instagram post under the username @lialiall77, and have wonderful kids that look quite like her – taking after her beauty.
Comments on Instagram agreed saying, "They look like you!... the eyes…the smile!!!... God bless you & your Beautiful Family!!" and "Oh my gosh, Lisa, they're mini you are lol May God be with them always."
Praises also went up for the beautiful Latina saying,
"Beautiful. You will always be apart of my childhood growing up"
"Ahhh. The beauty from Hells Kitchen. Its amazing that after all these years you pack the crowds by the sincerity and soulfulness of your explosive voice that just keeps getting better with age. One of the many millions of records you sold sits with my collection of Sinatra, Elvis, Tommy Dorsey and Pavarotti among others. Your beauty is your DNA. The talent, range and ultimately the legacy you'll leave us of that powerful voice is all you."
The former singer was born in 1967 to a religious family in New York City. She was widely known for being the singer of Lisa Lisa and Cult Jam and debuted their song "I Wonder if I Take You Home." The hit classic artist also sang the songs "All Cried Out" and "Head to Toe." She later ventured on her own as a solo artist and progressed from there.
Today, Lisa Lisa still performs, but is no longer as known as she was back then. Her beautiful voice hasn't failed her, she just chose a different path. She now has beautiful children to take care of and are proud of, and that fulfillment and happiness of hers can't be replaced with anything.
Please fill in your e-mail so we can share with you our top stories!