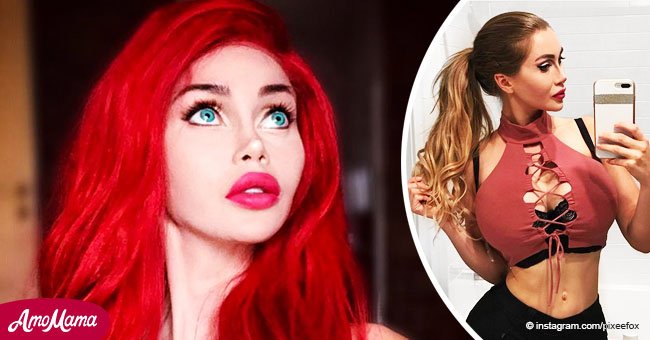 Woman had pubic hair implanted on her face to look more like a cartoon
Pixee Fox was implanted with pubic hair on her eyelashes in an attempt on her to become a real-life Jessica Rabbit, but she later suffered the consequences of her decisions.
Pixee Fox is a woman known throughout the world for having been subjected to more than 200 plastic surgeries on her body. Her last stunt was to have pubic hair implanted on her face and received harsh criticism from netizens all over the world.
As part of her physical modifications, Fox got four of her ribs removed to end up with a 15inch waist. Read more on our Twitter account @amomama_usa
She got her nose sharpened and reduced, got her eyebrows lifted, her cheekbones reduced, her breasts enlarged, and her eye color changed, among other interventions, all with one goal in mind: to look like an animated femme fatale.
Fox has already achieved a Guinness Record for having the smallest waist in the planet and has been widely praised for her striking similarity to several Disney characters that she has cosplayed.
But the Swedish woman apparently went too far when she opted to have pubic hair transplanted to her eyelashes to look more like Jessica Rabbit from the 1988 life action/animated film "Who Framed Roger Rabbit."
Fox is represented by Plastics of Hollywood talent agency, which specializes in managing the talents of the "most plastic people on the planet."
Despite the many critics Fox has received for what is considered by some an addiction to surgery, her plastic surgeons Terry Dubrow and Paul Nassi supported the 28-year-old and were happy to do the procedure on her.
A pubic hair transplant was something unheard for even for Dr. Dubrow, and he was excited to give it a try, celebrating the many options available for Fox nowadays.
Fox also defends her right to do whatever she feels like in order to achieve her desired appearance, and she has no regrets whatsoever about her several aesthetic interventions, however radical they might look to others.
"I never really felt human, I always felt more like a pixie, like a fantasy creature. I am proud over what I have achieved I think it's amazing. I have a new face, a new body it's a lot."
"It was so exciting and I just continued because I knew this was my way and what I was supposed to do. The surgeries have helped me over the years to love myself for the person I really am," Fox shared.
Her next project is to launch a comic book series inspired on herself. "I would not be a superhero like all the others, I will be one showing real-world struggles and you will see me in many different characters in the future," she said.
Fox is represented by Plastics of Hollywood talent agency, which specializes in managing the talents of the "most plastic people on the planet."
While many people consider the label "plastic" something negative or shameful, there is a subculture that worships the artificial look and would be happy to have the appearance of a true living doll.
28-year-old Aviva Rocks, just like Fox, counts herself as one of these people. Rocks has spent thousands of dollars on plastic surgery and says to be far from done, because nothing will stop her until she achieves her dream.
Please fill in your e-mail so we can share with you our top stories!