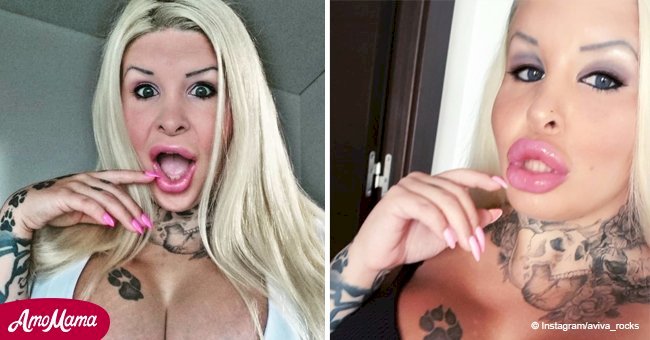 Woman spends more than $50,000 to 'look more plastic,' and now she wants her ribs removed
'Bimbo girl' Aviva Rocks has spent an astronomical amount of money on plastic surgery trying to achieve her ultimate plastic look. Now in the hopes of attaining a smaller waist, she aims to remove some of her ribs.
The 28-year-old loves her 'bimbo lifestyle' and is proud of being 'a bimbo girl' having spent thousands of dollars on plastic surgery. Her surgeries up to date include three boob jobs, two nose jobs, countless Botox injections, hyaluronic fillers, and a facelift, but she is far from done.
She plans on having a fourth breast enlargement, a third nose job, liposuction, and a Brazillian butt lift and more injections, not forgetting the rib removal surgery she plans to have in the future.
Read more on our Twitter account @amomama_usa.
However, rib removal surgery is not exclusive to women like Aviva wanting a slimmer waist. The self-proclaimed human Ken doll showed off his half-naked body on the beach after his rib removal surgery. No stranger to cosmetic surgery 34-year-old Rodrigo Alves had his 11th and 12th ribs removed earlier this year in pursuit of a 20-inch waist and confessed afterward having severe pain in the evenings which made him wonder why he insisted on having the surgery in the first place.
Self-proclaimed 4ft 9" 'bimbo girl' Aviva boasts super-sized lips and distinctive curves and earns a decent living around $650 per day as an adult performer and said:
"I wake up in the morning, go out with the dogs. Then I take a shower, do my makeup and wear sexy dresses. Then I sit in front of my laptop and start working. I work a couple of hours per day and I like it. After work I enjoy my free time - I go shopping, walk the dogs again or do something I like."
Included in her beauty regime are hair extensions, makeup, manicures, fillers and salon visits amounting to around $250 per month. Currently living in Spain she foregoes vacations and expensive clothes in order to save money for more cosmetic surgeries in her goal to look 'more plastic.' And commented that she had a normal and boring life before all the surgery, but since becoming a 'bimbo girl' she is happier than she was before.
Her advice to other young women who might consider copying her look is level-headed as she said:
"Think one more night about it, because some surgery you cannot undo. Don't take the cheapest doctor, but also don't take the highest price. The middle price is a good choice, I learned."
Just like Aviva, Natasha Crown, a 24-year-old glamor model from Sweden also has a very specific body goal. She wants the world's biggest butt. Currently, at 80 inches she aims to widen her butt to 110 inches.
Her aspirations started after undergoing her first Brazilian butt lift and have since spent over $65,000 on three separate Brazillian butt lift procedures. With the goal of attaining the largest butt, she committed to a high-calorie diet, consuming around 6,000 calories a day.
Please fill in your e-mail so we can share with you our top stories!