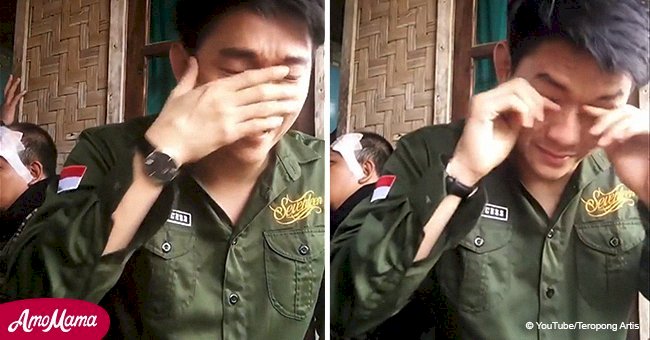 Tsunami in Indonesia crashes stage and kills four rock band members during concert

A band named Seventeen had their concert violently interrupted by the raging waters of the Tsunami that recently hit Indonesia.
The incident took place on Saturday, December 22, 2018, at Sunda Strait beach, where the band was performing for a crowd of over 200 people.
A shocking video of the moment the waters swept everything away has taken social media by storm and it is a graphic representation of how violent the tsunami was.
Follow us on our Twitter account @amomama_usa to learn more.
According to lead singer Riefian 'Ifan' Fajarsyah, four of his bandmates lost their lives as they failed to find something to hold onto when the waters destroyed the stage.
"Authorities have reported that 222 people were killed by the tsunami."
The four members were identified as M. Awal Purbani, the band's bassist, Oki Wijaya, road manager, Herman Sikumban, the guitarist, and Ujang, a member of the crew.
SHATTERED AFTER LOSING THOSE DEAR TO HIM
In a heartbreaking video, Fajarsyah revealed, with tears in his eyes, that his wife, Dylan Sahara, and the band's drummer are yet to be found among the victims of the tragedy.
The band was preparing to start their second song when the stage was pushed towards the audience, causing people to scream and run away.
IT WAS SUPPOSED TO BE A FUN NIGHT FOR EVERYONE
The concert was a private event held for 200 employees of the state electricity utility Perusahaan Listrik Negara, as well as their family members, which was why there were children in the crowd.
Zack, a crew member of the rock band, claimed that he struggled not to be washed away and the only thing he could do while underwater was to pray.
THE NUMBERS SO FAR
So far, authorities have reported that 222 people were killed by the tsunami, which was caused by the eruption of the Anak Krakatau volcano, located between the Java and Sumatra islands.
Over 800 people were injured after being swept away by the waters, which also destroyed around 500 houses, nine hotels, 350 boats and several other vehicles.
Please fill in your e-mail so we can share with you our top stories!