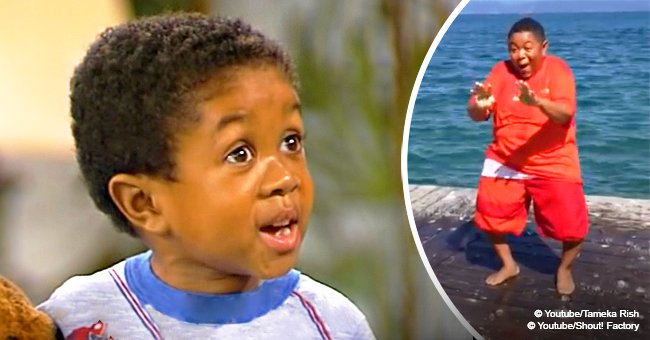 Remember Emmanuel Lewis from 'Webster'? He is now 47 and reportedly finds a new passion in life
Child star Emmanuel Lewis inspires with his devotion to making the most of his life despite his physical shortcoming.
It's not easy to forget a child actor who, after growing up in television, still appeared like a child to many. This was Emmanuel Lewis, more popularly known as the title character in the television series "Webster."
AN UNEXPLAINED SHORTCOMING
Lewis was 12 years old when he broke out in the series and 18 when it ended, but one thing remained constant, he looked like a child. His body physically stopped growing due to an unexplained medical condition. Doctors perceived him to have the potential to grow normally but he remained 4'3" for the rest of his adult life.
HIS SO-WHAT ATTITUDE
Much like the path another famous small guy Gary Coleman led, Lewis became a popular comedian despite his shortcomings. In fact, it's his childlike charm which made him stay in the hearts of many long after "Webster" left the screens. That and his confidence in dealing with his lack of height. He famously said in the past,
"It was never a shock to me. It was never a thing where I'd say, 'Oh, my God! What's going on here?' You know, I'm short. Alright."
PURSUING HIS PASSIONS DESPITE HIS CHILDLIKE APPEARANCE
It's this "so what" attitude that led Lewis to greater heights even after his popularity waned in show business. Instead of turning into a druggie like most child stars end up doing, he pursued a theater degree in Clark Atlanta University.
When acting roles were scarce, he sought other passions, one of which was Taekwondo. And after becoming a certified black belter, he branched out into another field – music. He tried his hand in producing through his record label called Emmanuel Lewis Entertainment but that didn't soar.
Because he's Lewis, the actor with great confidence, he moved on from that failed project and set his sights on something else. He founded a company called Anatole. There's not much known about the nature of his company but the 47-year-old recently joined a panel of leaders in a Legacy Lecture Series at the National Black College Alumni Hall of Fame Foundation.
A CHILD STAR LIKE LEWIS WHO TOOK A DIFFERENT PATH
Lewis is a shining example of a person who didn't allow his physical shortcomings to hinder him from growing professionally and personally. This is sadly not the case for his counterpart, Gary Coleman who towards the end of his life suffered from depression and suicidal thoughts. The "Different Strokes" star was riddled with health and financial problems which forced him to work even harder. The pressure must have taken a toll on him which is why doubts were raised when he reportedly fell down the stairs and died in May 2010 at the age of 42. Many suspected he may have committed suicide after overdosing himself twice before his passing. This theory was never substantiated but it remained a plausible one.
Please fill in your e-mail so we can share with you our top stories!