Outraged mom throws tantrum after her daughter was refused permission to pet a service dog
On December 19, a handler was with a service dog in a busy Pittsburgh, Pennsylvania shopping mall. A mother and her young daughter approached them and asked to pet the dog to which the handler said "no."
The mother walked away but came back after a few minutes and an altercation ensued between the two women. The video has since been shared on social media and both parties have given their versions of the incident.
Last Wednesday, dog handler Megan Stoff was with a golden retriever, Nala, in a shopping mall when she faced an altercation with another woman. The woman asked Stoff and her co-workers if her daughter could pet the dog.
The dog handler simply answered "no" because petting a service dog can interfere with its training. However, the interaction between the women didn't end there because after walking away, the unnamed woman came back and started shouting Stoff and her co-workers.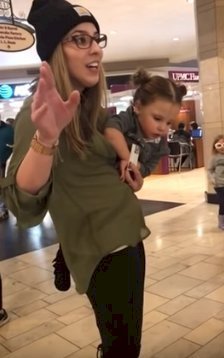 For more on this story go to our Twitter account @amomama_usa. Seeing how things were going downhill, Stoff decided to record the confrontation which has since gone viral.
In the clip, the little girl's mother was heard saying, "That was definitely very rude how she talked to me. Firstly you should have a sign [saying not to touch the dog], and secondly, she should not have said 'no', she could've said 'sorry the dog is in training' that would've been nicer."
Stoff tries to diffuse the situation by asking the woman to leave. She also points out to the woman that Nala's vest has the words 'Please do not pet me I'm working' written on both sides of it.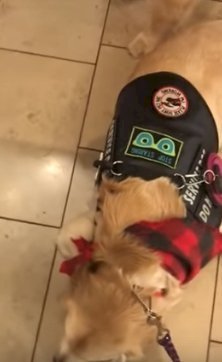 It also has the words 'Do not touch' and 'Do not pet.' As the women go back and forth, the dog handler also points out that it's illegal to "harass a service dog."
The mother realizes that she's being filmed and things escalate further as she threatens to call her lawyer. She informs Stoff, "You are recording without my consent. It's illegal and I'm going to call my lawyer right now."
Pittsburgh Action News 4 managed to catch up with both women and the dog handler explained that people with service dogs deal with requests from the public to pet the dogs, almost daily.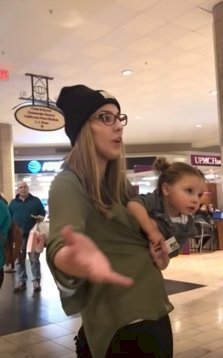 She said:
"They don't know they're not supposed to talk to them and distract them. They think they can go, hi puppy, hi doggy, and get in their face, and that can also distract them even though we've trained them to hopefully ignore that."
Stoff added:
"I guess something else I'd want the public to know is that, service dogs are not just for people with physical disabilities or visible disabilities. A lot of people have service dogs for things that are not visible such as seizures, diabetes, PTSD."
Sharing her side of the story, the mother with the little girl explained in a written statement that she wasn't offended by Stoff saying no. She revealed that she decided to confront the group because someone had sworn at in front of her 2-year-old daughter.   
The mother of the toddler elaborated:
"My daughter, friend and I were walking behind a group of people with dogs. I asked one woman if my daughter could pet her dog, she's responded with No in a rude manner. We accepted the answer of NO and was proceeding to Starbucks line for coffee when my friend and I heard a woman from the group tell us to [expletive]."
The woman further explained that she left a Starbucks line to discuss the profanity used against her and to gain clarification. She said Stoff only started recording after that.
The mother shared that she's since started receiving a number of hate messages on Facebook after the video went viral. 
Kateri Sullivan, 13, is a teenager living with cerebral palsy. She had been looking forward to an ice skating trip with her Midland Park Girl Scout troop where she would be using an adaptive walker for snow and ice.
The device was made four years ago that she planned on using. However, on the day, as soon as she entered the Fritz Dietl Ice Rink in Westwood she was told she couldn't use the walker.
Her mother Colleen Orso revealed that a rink employee called the owner Carola Dietl, who told the family over the phone that the walker was prohibited. Dietl explained that the walker would pose a threat to other skaters.
They were also informed that the rink didn't have liability insurance as well. However, a list of rules hanging on the rink's wall never mentioned anything about foreign objects on the ice.
Sullivan ended up spending the entirety of the outing hugging the wall in tears. She only made it halfway around the rink before being helped off of the ice.