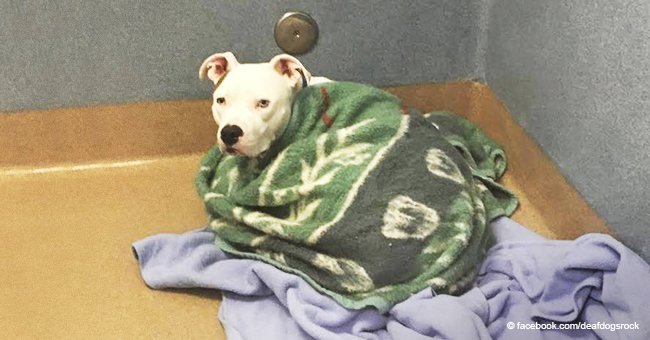 Deaf dog abandoned by cruel family comforts himself wrapped in blankets
This dog, called Valcor, is deaf but compensates in many other ways, and he has stolen hearts all over the internet.
Valcor is deaf from birth. All his life he has been challenged to be understood. His blankets became the most important thing for him, and he did not let go of them while waiting for a new home.
Unable to hear, the warmth of the blankets makes him feel protected. Despite the number of blankets that surround him, anyone who approached the dog's shelter kernel could see the adorable 3-year-old pit bull and its bright blue eyes.
The puppy was delivered to the shelter of Animal Friends of the Valleys (AFV) in Wildomar, California, during the Thanksgiving weekend. The previous owner told shelter employees that their pet "needs his blankets near him at all times so he can suck on them."
Indeed, as soon as Valcor was given blankets, the puppy was visibly at easy. Katie Menges, AFV media manager told The Dodo:
"He curls himself up in his blankets and sleeps like a baby until someone touches him or he decides he wants some play time."
His previous family took Valcor to the shelter after the arrival of a new baby. They were forced to get rid of their pet because he had become protective of his little brother. Also, he had territory issues with the other dog of the house.
At first, the employees were a little distrustful, but soon they noticed that Valcor got along well with the children and other dogs.
Katie said:
"When we brought in different dogs for him to interact with for a 'dog test' he did really well. He does make some funny noises that the other dogs don't really understand, but that is also very common for deaf pets."
The favorite moment of the week for this beautiful pit bull is when he receives visits from elementary school children. The children practice their reading skills with the animals of the place.
Valcor is thrilled when he has children around. He is a loving dog, and he likes kisses a lot.
Fortunately, Valcor managed to find a loving home thanks to a teacher from the local community. Kristeena Thaten also has hearing problems and is excited to start a new life with her pet.
DEAFNESS ON DOGS
Deafness can be a challenge when training a dog. However, it is essential to consider that their other senses (smell, peripheral vision, body language) may improve over time, as is usually the case with humans with hearing problems.
Deaf dogs are very aware of body language; they are very observant with gestures. Therefore, communication should focus on the visual rather than the verbal. Calling the attention of a deaf dog is another aspect to consider. Every time your dog looks at you, you should mark and reinforce that behavior.
Hit the floor to create a vibration remarkable enough to get your dog's attention. You can also shake your arms from a distance.
OPAL THE DEAF AND BLIND LOVING DOG
The story of Valcor is similar to that of Opal, a deaf and blind dog who went viral on social media after being recorded on video. Despite her disabilities, she was able to locate her owner thanks to her powerful nose. In the video, Opal is seen welcoming her owner with joy.
Some may think that a deaf and blind dog would have some difficulties to be able to walk around the world, but as the video shows, Opal has no problem playing in the yard and finding the people she loves.
Please fill in your e-mail so we can share with you our top stories!