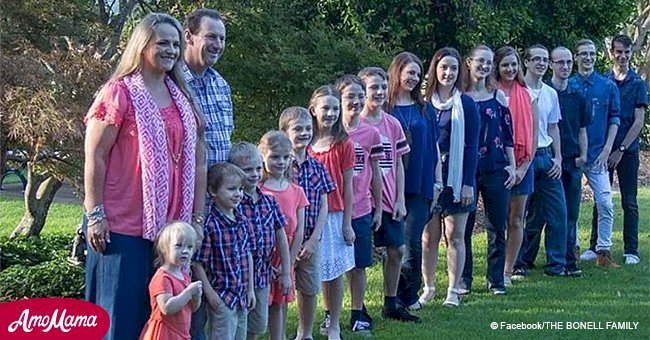 'Budgets are hard to stick to and finances are tight': mom of 16 shares Christmas shopping list

The mother of the largest family in Australia shared her secret in providing an unforgettable Christmas for her family of 18.
Together Jeni and Ray Bonell from Toowoomba, Queensland, Australia have 16 biological children. From 4-year-old Katelyn being the youngest to the eldest, Jesse at 29. The brood consists of seven daughter and nine sons.
With 18 mouths to feed the year through it can be challenging to provide a feast at Christmas, nevermind gifts, but Jeni had become seasoned at making things work.
The planning start months in advance and Jeni clears the freezer systematically ahead of time to ensure space for all the food. And it's a lot of food, included in her Christmas shopping list are numerous tubs of ice cream, three cooked chickens, 12 bottles of fizzy pop, 6kg of fresh prawns, 3 kg of turkey, and a whopping 11 kg of ham.
Read more on our Twitter account @amomama_usa.
It's a time of year 49-year-old Jeni looks forward to each year as she said:
"Everybody loves Christmas in our house; it's always a wonderful and big day. [But] there can certainly be difficult, and it's expensive too, but also we have many happy times, we make it all work."
On her YouTube channel, Jeni shared the first part her secret:
"Know your budget, know how many people you need to buy for, know your disposable income. That will make it easier to stick to that budget. It's pretty tight this time of year."
Budgets are difficult to stick to, and finances are ordinarily tight, which brings us to the other part of Jeni's secret, saving well in advance as she gave an example:
"If you have ten people to buy for and you're spending $50 on each person, that's $500 you have to have saved. If you only put away $20 a week, you'll have $1000 at Christmas time. That's enough to spend on friends and family and have a nice meal on the day."
Right at the end of the video, Jeni appealed to everyone to also think of those who have nothing this Christmas as she added:
"We don't want any child to wake up and not have a special gift to make them smile that day. Within your Christmas money spare a little bit of your money and blessings to help someone else. You might change a life, put a smile on a face, by giving that little bit extra."
Jeni will have to give a little extra next Christmas as the family will be bigger by then, as she teasingly said on the 'Today' show, "Our family is growing" and laughed before she elaborated:
"But I'm not expecting. We are getting our very first two grandbabies. Our eldest daughter Brooke is expecting her first baby and our second eldest son and his wife are also expecting their first baby. So we get to be grandparents."
While on the topic of large extraordinary families, the first all-female surviving set of sextuplets born 34 years ago recently shared pictures of them now.
Throughout their lives, the media documented and shared milestones as the got older, with the most detailed being a documentary about the sisters when they turned 30 years old. The survival of all six babies was one miracle, their conception was another.
Janet Wilson got told at 16 years old that the likelihood of her ever conceiving a child was scare.
But Janet and husband Graham decided to try fertility treatments, however after several years and 12 fertility treatments she still had not gotten pregnant.
The couple then took a vacation where they wanted to make a final decision about adopting after being accepted as potential adoptive parents, but upon their return, Janet found out she is pregnant, and not just with one, but with six babies.
Although they are all grown up with their own lives, the sisters remain very close and even got matching heart tattoos on their 30th birthday!
Please fill in your e-mail so we can share with you our top stories!