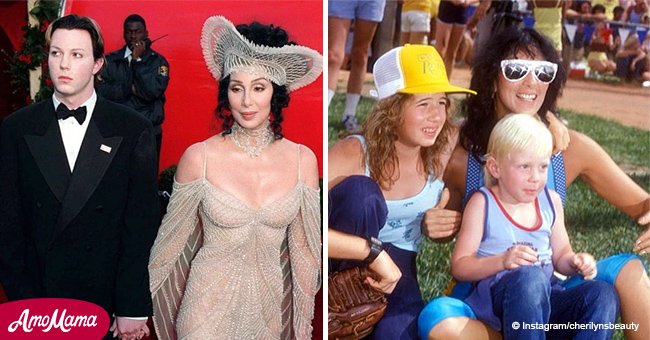 Complex story behind the painful rift between Cher and her aloof son
Legendary singer Cher had a falling out with her son after he eloped to marry his girlfriend.
Elijah Blue, Cher's son with rocker Gregg Allman, married Marieangela "Angie" King against her mother's wishes, as reported by Daily Mail.
The 37-year-old son of two of America's greatest musical legends was devastated after his mother disapproved of his engagement to Angie.
"We got married in front of the fireplace in our new house, we kind of christened it. Just a few friends came..."
Follow us on our Twitter account, @amomama_usa, to learn more.
He immediately suggested eloping after Cher didn't acknowledge or congratulate her son on their engagement.
FAMILY'S BLACK SHEEP
"I wasn't going to wait for anyone's approval and congratulations just like I've never waited for any of that my whole life. The way I eloped with my wife is the same way I've done everything I've ever done. I don't know any other way and we knew it was the right time," he explained.
He added: "I've always been the black sheep of my family. The reason being we just have different value systems and we just have a different mentality and that clashes a lot. We have lots of ups and downs and right now isn't the best time."
Elijah has been through a lot in the last decade. He has battled a heroin addiction, watched his sister Chastity transition into a man, and almost died after contracting Lyme disease.
He said meeting Angie, 26, helped him bounce back.
Elijah said he and Angie "eloped in a real Romeo and Juliet fashion."
"We got married in front of the fireplace in our new house, we kind of christened it. Just a few friends came, one of them was my good friend, the rapper Mickey Avalon. We wanted something that was sacred and private. This was something that was for me and my girl," he recounted.
CHER'S IMPECCABLE PUBLIC APPEARANCES
Judging by her public appearances, Cher doesn't seem to be so bothered by her family troubles.
The 72-year-old iconic singer and actress recently impressed fashion critics yet again as she appeared on James Corden's popular CBS late night show.
She was one of James Corden's deluxe guests during #LateLateLondon week, during which she shared some juicy personal details.
Please fill in your e-mail so we can share with you our top stories!