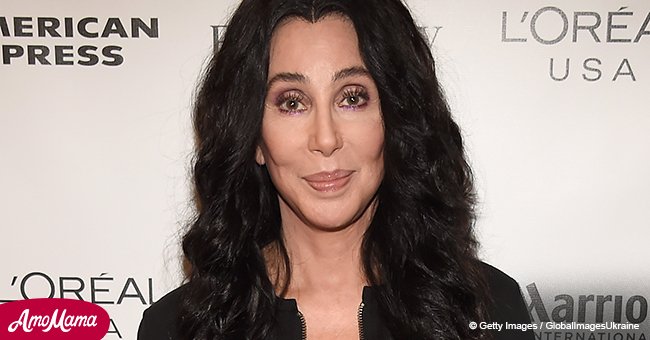 Cher makes sensationally stylish appearance on 'The Late Late Show'
The iconic singer and actress was one of Corden's deluxe guests during #LateLateLondon week on June 19 and not only she shared some juicy personal details but delighted with her impeccable fashion style.
39-year-old British singer, actor and TV host James Corden is taking his hometown London by storm with a series of episodes of his popular CBS late night show being made in the UK, as Daily Mail reported.
Cher's stylish outfit was first spotted prior to her meeting with Corden in front of the TV cameras, as she was seen leaving her London hotel earlier in the day, on her way to the show.
The 72-year-old hitmaker appeared to be in a cheerful mood as she stepped out into London's summer weather, as she gave another example of her famous extravagant style.
The Believe singer was true to her reputation putting together an age-defying look that involved a slightly semi-sheer lace black top belted in at the waist with chain detailing down the side.
Her look was completed with matching black leggings and towering boots, and she accessorized it with a studded handbag. The songstress wore her pitch-black hair, curled, in her traditional center-parted style.
Once in the TV set with Corden, Cher took part in the truth-or-dare segment of the late-night show, called 'Spill Your Guts or Fill Your Guts,' in which both of them took turns choosing between answering a question or eat despicable things.
According to Billboard, the star did well in the challenge, but she couldn't save herself from having to eat a dried caterpillar when Corden asked her something she couldn't find the courage to answer in such a public platform.
'Cher, you said Tom Cruise is one of your five favorite lovers. Who are the other four?' Corden dared her to answer, forcing her to go for the disgusting 'treat' instead.
Corden is back in the UK for the second year in a row for a week of shows, and he will have a parade of high profile personalities as guests on the special edition of the program, like Cate Blanchett, J.J. Abrams or Orlando Bloom.
The host has also shared his excitement for his upcoming Carpool Karaoke with the legendary ex-Beatle Paul McCartney, which he already teased. It will be aired on June 20's episode of The Late Late Night Show with James Corden.
Special London episodes of The Late Late Show with James Corden, will air from Tuesday 19 June - Friday 22 June. Read more on our Twitter account @amomama_usa
Please fill in your e-mail so we can share with you our top stories!