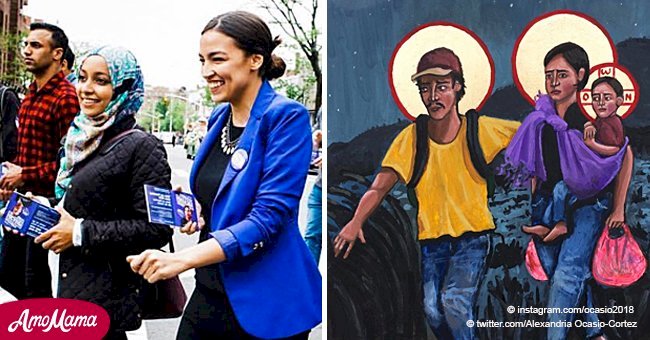 'Christ's family were refugees, too': Ocasio-Cortez's Christmas tweets spark debate
Alexandria Ocasio-Cortez stirred the pot on Christmas day when she compared refugees to Jesus Christ in a tweet.
On December 17, Alexandria posted a tweet stating that she needed a break before officially taking office on January 3. The campaign had left her exhausted, but that didn't stop Alexandria from speaking her mind on Christmas Day.
Making eyebrow-raising comparisons on social media have become somewhat of a trademark for the newly elected congresswoman as her post read:
"Joy to the World!Merry Christmas everyone - here's to a holiday filled with happiness, family, and love for all people. ?(Including refugee babies in mangers + their parents.)"
Read more on our Twitter account @amomama_usa.
Responses to her tweet heavily criticized her message that got followed up by another later during the afternoon with an article attached, stating the Jesus, Joseph and Mary were refugees as she wrote:
"For all the anti-immigrant pundits uncomfortable with and denying that Christ's family were refugees, too."

Source: Twitter/Alexandria Ocasio-Cortez
29-year-old Alexandria's follow up post got followers even more riled up as a slur of malodorous comments followed.
As per the Gospel of Luke, Joseph brought Mary to Bethlehem to enroll in a census ordered by the Roman emperor Agustus. After failing to secure sleeping quarters for the evening, Joseph and Mary took shelter in a stable for the evening.

Source: Twitter/Alexandria Ocasio-Cortez
But then in the Gospel of Matthew, the couple fled to Egypt after King Herod of Judea ordered the execution of all boys aged 2 and under, while in search of the newborn 'King of Jews."
It is no wonder that Alexandria needs a break before officially starting her new post as she tweeted:
"I'm taking a few days to take care of myself before what is sure to be an eventful term."
Constantly taking on the current administration and having recently finished her first campaign run must have left her low on energy, but she is tenacious as she also said in her tweet:
"For working people, immigrants, & the poor, self-care is political — not because we want it to be, but bc of the inevitable shaming of someone doing a face mask while financially stressed. So I've decided to take others along with me on IG as I learn what self-care even means and why it's important."
President Trump's immigration policies to limit asylum seekers, migrants and refugees are frequently criticized by the Democrats. The continuous violations of fundamental human rights and the administration's generalizations that all refugees are criminals, disease carriers and terrorists have many people up in arms.
While the current administration is under constant criticism, they have no qualms about taking stabs at others, as Donald Trump Jr. recently singled out Alexandria for her socialist views with a meme on Instagram.
The top half of the picture depicts Alexandria asking the question, "Why are you so afraid of a socialist economy." While the bottom half shows a picture of Donald Trump with the answer, "Because Americans want to walk their dogs, not eat them." Donald Trump Jr. captioned the meme, " It's funny cuz it's true!!"
What is true, is that the current administration sits with more problems than they know how to solve, and everyone is simply pointing fingers at others.
Please fill in your e-mail so we can share with you our top stories!