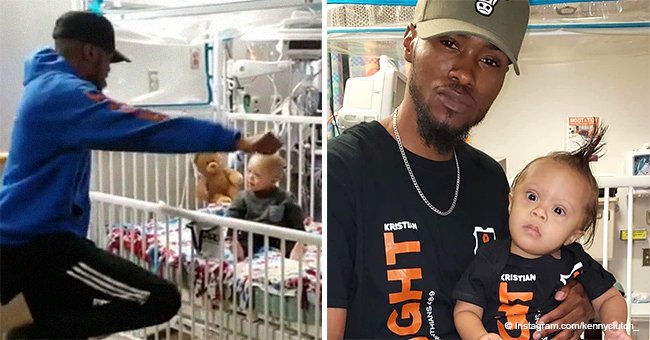 Dad who went viral for dancing for his baby in hospital announces toddler is cancer-free
Not too long ago, a father of a cancer-stricken baby melted hearts when he shared a video of him dancing to his son to cheer him up during treatment. Months later, there's a happy ending for this wonderful family who reveals the little boy is now cancer-free.
Kenny Thomas is the head choreographer at a dance complex in New Jersey who used his talent to bring joy to his sick child. Knowing full well how his son, 20-month-old Kristian responds positively to music which calms him down, Thomas would often dance to his child during his 32-day stay at the Children's Hospital in Philadelphia where he was being treated for cancer.
CHEERING UP HIS SON THROUGH DANCE
Kristian, who was born with Down syndrome and a blood disorder was also diagnosed with leukemia and was required to undergo chemotherapy. After his first session, his father cheered him up in the best way he knew how – by dancing for him. Performing to Ciara's "Level Up," Thomas not only got Kristian's attention but he managed to make the little boy smile, clap, and dance with him.
CLIP GOES VIRAL
The clip of Thomas' sweet performance for his child went viral and even caught the attention of Ciara who paid Kristian a visit in August. She even tweeted about it and wrote,
"Today I had one of the best times in life," the singer tweeted after her visit with the family at their dance studio. "I got to meet the rock star Kristian... he's surrounded by an abundance of love."
HAPPY NEWS
Today, we learn that Kristian is cancer-free. Thomas and his wife Josilyne received the news in November and spoke to Today Parents about the joy of learning his son was well.
"It was the most glorifying thing you could ever feel. When your 1 year old is going through a huge battle, as a parent you want to take their place — you don't want them to have to suffer."
CIARA'S RESPONSE TO THE NEWS
When Ciara heard the news, she posted her happiness on her Instagram story which Thomas captured and shared on his own social media account. Ciara's message read,
"So happy to hear that Kristian is now cancer-free! God is good! Go Baby Kristian!"
Thomas thanked Ciara and her husband Russell Wilson in his caption and declared his son cancer free through one of his hashtags.
As a result of Thomas' experience, he vows to pay it forward by inspiring others to fight cancer and use his social media which shot up to 70,000 followers since he went viral, to raise awareness for pediatric cancer and become an advocate for families who are hurting because of it.
Please fill in your e-mail so we can share with you our top stories!