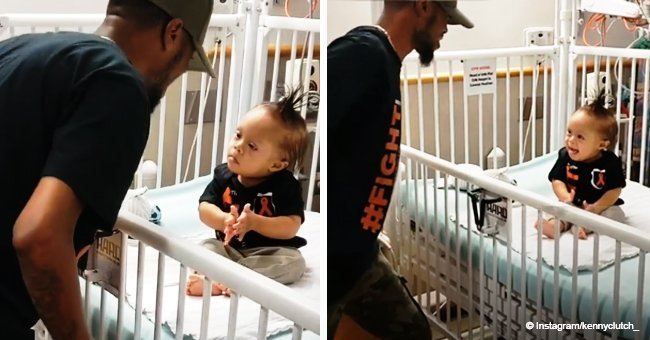 Father dances to Ciara's song for his son who is battling cancer

Kennith Thomas, also known as Kenny Clutch on social media, took to Instagram to share a video of himself dancing in front of his son, who has leukemia.
BBC reported that Kenny was a dance teacher and choreographer in New Jersey. His almost one-year-old son Kristian was diagnosed with the previously mentioned disease.
As a way to treat him, Kenny and his partner take him to the Children's Hospital of Philadelphia every now and then. During their latest visit, Kenny decided to do something different for his toddler, and he started dancing to Ciara's hit Level Up.
Everything was recorded and uploaded to the proud father's Instagram account. The video started with Kenny, who was wearing camo pants, a cap, and a black shirt that had 'Fight' written on it, staring at Kristian, who was on the hospital bed.
After that, Kenny began dancing to Level Up, and his son could do nothing but look at his father just like wondering what he was doing.
Later, Kristian began clapping, what served as the fuel that Kenny needed to unleash his best dance moves. The man started moving his arms, head, and shoulders following the rhythm of the music while Kristian tried to copy him by moving his arms, too
By the end of the recording, Kristian was seen waving at the camera while his father finished his performance. In the caption, the proud man revealed that they were going home for a couple of days as Kristian was 'killing cancer.'
The video became so popular that even Ciara herself reposted it, admitting that she couldn't stop watching the video as Kenny was doing the Level Up challenge because Kristian's numbers were up.
Capital Xtra reported that following Drake's In My Feelings challenge, Ciara's Level Up challenge is set to be the next viral Internet craze.
Apart from the dance challenge, several celebrities have taken their time to record themselves and explain the aspects that they would like to 'level up.' Among the stars who have done it, there are Serena Williams, Janelle Monae, Kelly Rowland, and so on.
Please fill in your e-mail so we can share with you our top stories!