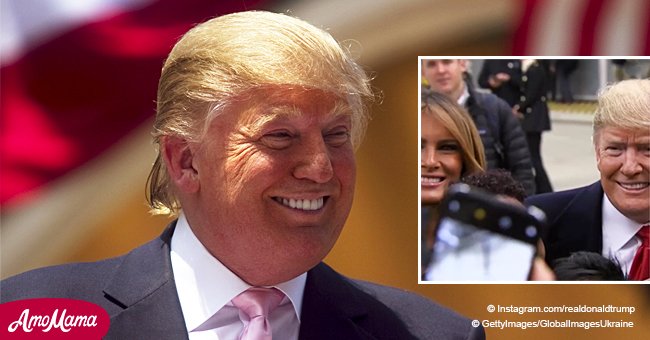 President Trump surprised troops one more time making an unexpected visit on his way back to US
This week, President Donald Trump and the first lady Melania Trump surprised military troops by visiting unexpectedly. The couple visited US troops on the German base in Ramstein.
Their visit occurred on their way back from meeting troops in Iraq. The president and the first lady were returning to the US at the time.
On Thursday, President Donald Trump and first lady Melania Trump arrived at the German base at around 8 p.m. ET. They had stopped in the country when Air Force One needed to refuel.
At the base, the presidential couple met with service members, some of which were carrying "Make America Great Again (MAGA)" hats. Some troops waited up until around 4 a.m. local time when they heard the president was coming.
For more on this story go to our Twitter account @amomama_usa. Earlier in the day, Donald and Melania had taken a three-hour trip to visit the al-Asad airbase west of Baghdad, Iraq.
The two visits were their first ones to overseas military installations. In Iraq, the president delivered a speech to the rank and file and he and the first lady took selfies with the troops.
The president also got to meet with military leaders in the country. However, he failed to meet with Iraq's Prime Minister Abdul-Mahdi, but they got to speak to each other over the phone.
In a statement, the Prime Minister's office explained that "differences in points of view over the arrangements" had prevented the two leaders from meeting face-to-face.
Over the phone, they discussed security issues and Donald's order to withdraw US troops from Syria. The White House revealed that security concerns and the short notice trip were what prevented the two leaders from meeting.
The president had asked to meet the Prime Minister at the Ain al-Asad military base but Abdul-Mahdi declined. The two plan on meeting in Washington D.C. at a later date.
During his visit to Iraq, Donald revealed that he was withdrawing 2,000 troops from Syria because the US military had gained against the Islamic State terror group ISIS.
Speaking to service members at the base, he said:
"We're no longer the suckers, folks. We're respected again as a nation."
Please fill in your e-mail so we can share with you our top stories!