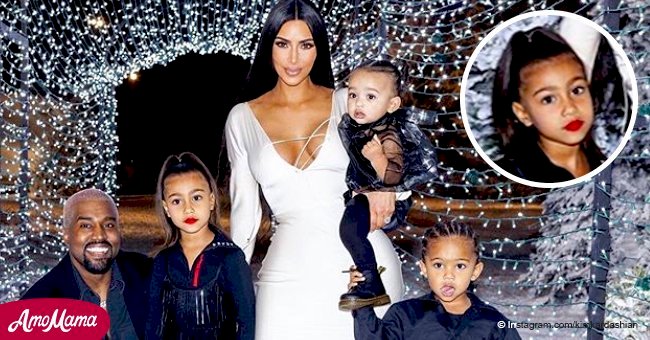 Kim Kardashian's daughter North stole the show on Christmas photo with controversial makeup
Many families have the tradition of taking Christmas photographs, and the Kardashian-West's are no different. The day after Christmas Kim Kardashian posted pictures on Instagram of their celebrations.
In the photograph, Kim is seen standing next to her husband Kanye West with their three children around them.
However, what most of Kim's followers noticed was that her eldest child, North, was wearing red lipstick.
Read more on our Twitter @amomama_usa.
TOO YOUNG FOR MAKEUP?
The photograph was taken at the annual Kardashian Christmas Party. All the Kardashians, their partners, and children attended.
North, at five years old, was considered by many of Kim's Instagram followers to be too young to be wearing lipstick.
There were those who came to Kim's defense and pointed out that many little girls enjoy experimenting with makeup now and again.
Kim also came to her aid by tweeting that North picked the lipstick herself and that she was only allowed to wear it because it was a special occasion.
MAKEUP RULES
This is not the first time that North has appeared on Kim's Instagram wearing makeup. Earlier this year North was on her mother's Instagram story.
In the story, North is doing Kim's makeup for her. Previously she had only put makeup on herself, so this is the first time she was allowed to apply it to her mother's face.
North, being only five years old, accidentally messed some makeup on the carpet. Kim tried to clean it with a makeup wipe, but that just made matters worse.
Kim has strict makeup rules for North, which are that she can't wear dark shades of lipstick and that she can't wear false eyelashes.
CHRISTMAS PARTY
The annual Kardashian Christmas party is usually hosted by Kris Jenner, but this year Kim took over from her mother.
The party took place at Kim and Kanye's house, which they transformed into a winter wonderland, complete with sleighs and fake snow.
Besides her family guests included Paris Hilton, Jennifer Lopez, Dave Chapelle, Sofia Richie, Sia, and Tyler the Creator.
Please fill in your e-mail so we can share with you our top stories!