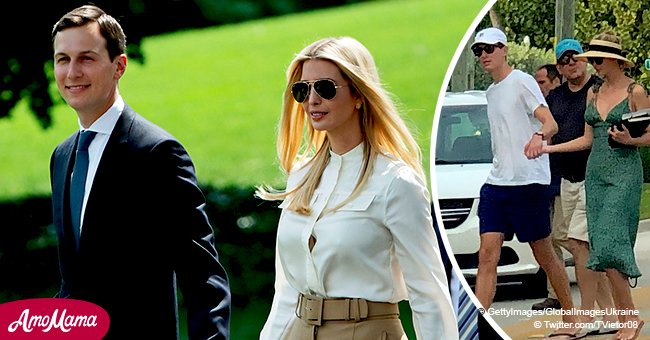 Ivanka Trump and Jared Kushner criticized for spending Christmas holidays at Mar-a-Lago resort
President Donald Trump and his wife first lady Melania Trump spent time at the White House instead of going on holiday amidst the partial government shutdown.
However, two senior White House advisers were seen on holiday since Tuesday. The married couple has since faced criticism for taking time off during such a crucial period.
President Donald Trump took to Twitter recently to complain about the federal government shutdown which has spoiled his holiday plans. However, his daughter and his son-in-law don't appear to be affected by the shutdown.
Ivanka Trump and her husband, Jared Kushner both work as senior White House advisers, but on Tuesday they were seen on holiday at the Mar-a-Lago estate in Florida. The first daughter was photographed walking hand-in-hand with her husband on Christmas Day.
For more on this story go to our Twitter account @amomama_usa. The two were in full vacation mode with Ivanka wearing a long green spaghetti strap dress with a straw visor hat.
She wore casual flat sandals while Kushner also looked relaxed in a white T-shirt, a cap, blue shorts, and flip-flops. The pair was accompanied by a Secret Service team.
The couple was criticized because their government jobs were expected to require them to be working at the White House. It was reported that Kushner, in particular, was involved in the negotiations with Vice President Mike Pence and Office of Management and Budget Director Mick Mulvaney to resolve the shutdown over funding for the president's proposed border wall.
Around 400,000 "essential" federal employees were expected to continue their duties, however, they won't be paid until the shutdown ends. These employees include people such as Transportation Security Administration agents.
While Ivanka and her husband enjoy their holiday, the president and other cabinet members remain in Washington D.C. However, it is possible that the couple is not considered "essential" federal employees.
That would explain why they were free to take time off as they pleased. Some people are also questioning whether or not they; or their security guards will be paid during the shutdown.
The first daughter and her husband also came under scrutiny this year when they vacationed at a luxury resort in the Dominican Republic over a long weekend in August. At the time, their holiday security detail cost US taxpayers more than $58,000.
A White House spokesperson, however, explained that the couple covered their own costs for other expenses.
Please fill in your e-mail so we can share with you our top stories!