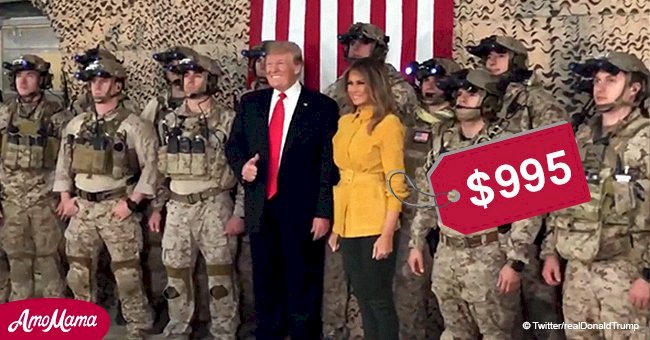 Melania Trump looks casual in jacket paired with combat boots while visiting troops with husband
United States military troops stationed in Baghdad were pleasantly surprised when President Trump and First Lady Melania paid them a visit on December 26.
The Presidential pair's secret trip took many by surprise, including the troops, as speculation rose over the president's whereabouts when hours went by without Trump posting a tweet.
While the marine, who stands guard at the West Wing when Trump is in the Oval Office was nowhere to be seen.
Hours later press secretary, Sarah Sanders, announced their arrival on Twitter while sharing an image of Melania and Donald posing with members of the military.
Read more on our Twitter account @amomama_usa.
Upon arriving in Baghdad after an 11 hour darkened Air Force One flight, with a jet escort, the Presidential couple got me by the National Security Adviser, John Bolton.
President Trump and Melania spent three hours on the ground attending meetings with both military and political leaders.
With a preference of staying in theme with her outfits, Melania did not disappoint. Fitting right in with the troops, Melania wore a saffron-colored, military-style jacket from Victoria Beckham, plain black pants, and exchanged her heels for a pair of Timberland hiking boots.
Donald and Melania posed with the fatigue wearing troops in smiling selfies as they wished the service members a Merry Christmas.
48-year-old Melania was in high spirits during the meet and greet, and chatted with military members in between taking selfies with a handful of service members.
Her hair characteristically hung loosely over her shoulders, while she opted for pink lips, bronzer and her usual style of eye makeup.
During Donald's first visit to the region, he stated to have "no plans at all" to remove any troops from the area, but after his declaration that ISIS has been "defeated," rumors started circulating that some of the troops may come home.
Confirming the chatter, President Trump told the troops that because of U.S. military gains against ISIS he would withdraw 2,000 troops from Syria, as Trump said:
"We're no longer the suckers, folks. We're respected again as a nation."
The first time Melania style matched with the troops was in September of 2017. She joined Donald on a trip to the Joint Andrews Air Force Base in Maryland and arrived in style.
The First Lady wore a $595 Veronica Beard, army green military style camp jacket and khaki colored pants.
In the statement posted to Twitter, where Sarah Sanders confirmed the Presidential couple's visit to Iraq, she said:
"President Trump and the First Lady traveled to Iraq late on Christmas night to visit with our troops and Senior Military leadership to thank them for their service, their success, and their sacrifice and to wish them a Merry Christmas."
Precisely a month ago, Melania and the wife of Vice President Mike Pence, Karen, went to the Red Cross to help prepare care packages for the American troops abroad.
The First Lady style matched again, as she wore red to the Red Cross event. Melania looked beautiful in red cigarette pants with a dark blue, form-fitting jumper; she traded her heels for red ballerina slippers which complemented her outfit.
Please fill in your e-mail so we can share with you our top stories!