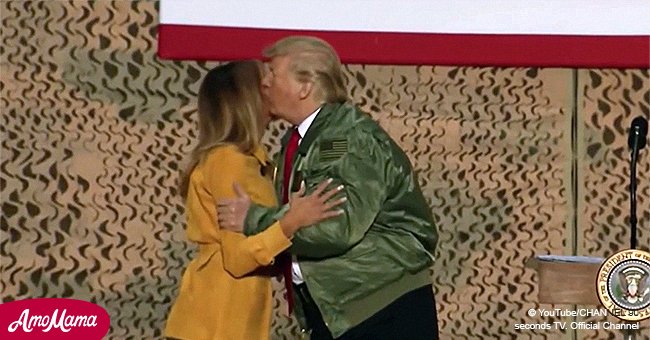 Body language expert explains real meaning behind Donald Trump and Melania's 'awkward' kiss
On Thursday, President Donald Trump and first lady Melania Trump made a surprise visit to US troops in Iraq. They greeted and posed with many service personnel who were thrilled to see them there.
The presidential couple also treated the troops to a "rare" show of public affection. A body language expert has since analyzed their shared kiss.
This week, President Donald Trump and first lady Melania Trump spent time visiting with the US military troops at an air base west of Baghdad, Iraq. The pair was there for more than three hours.
They posed for photographs with the military personnel and treated the audience to a rare "public display of affection." A body language expert, Judi James, elaborated on the pair's kiss.
For more on this story go to our Twitter account @amomama_usa. James said:
"A public display of affection (PDA) between Trump and Melania is a rare event and this cheek kiss looks awkward and lacking in symmetry. Again their approaches are different, with Trump clutching his wife's upper arm tightly enough to make his knuckles whiten while Melania appears to barely lay her splayed hand on his bicep with no sign of holding or clutching."
The body expert pointed out that, "Melania appears to keep their torsos apart as they kiss, stretching her neck in to achieve face-closeness instead." She noted that the president's" kissing style" looked "dominant, with a raised chin and fully pursed lips that touch his wife's face on her upper cheekbone."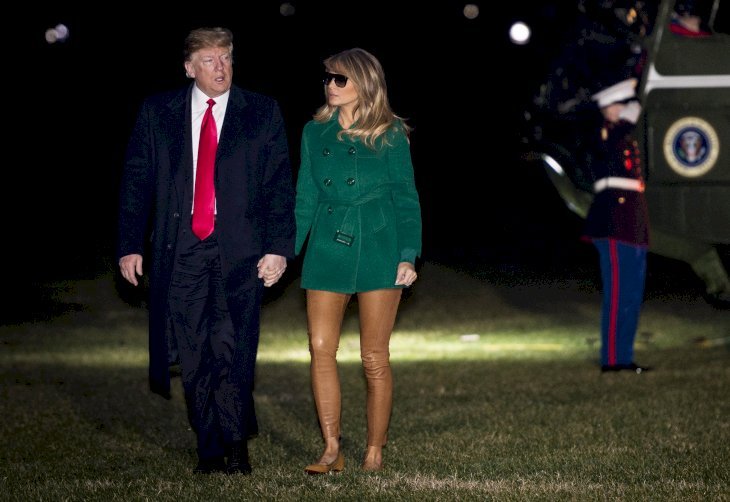 Source: Getty images/GlobalimagesUkraine
She further explained:
"This rather awkward style of cheek kiss with contrasting touch and little in the way of choreography would normally suggest a social or business greeting or farewell kiss between colleagues or friends, suggesting the Trump's might feel rather awkward performing PDAs for the cameras."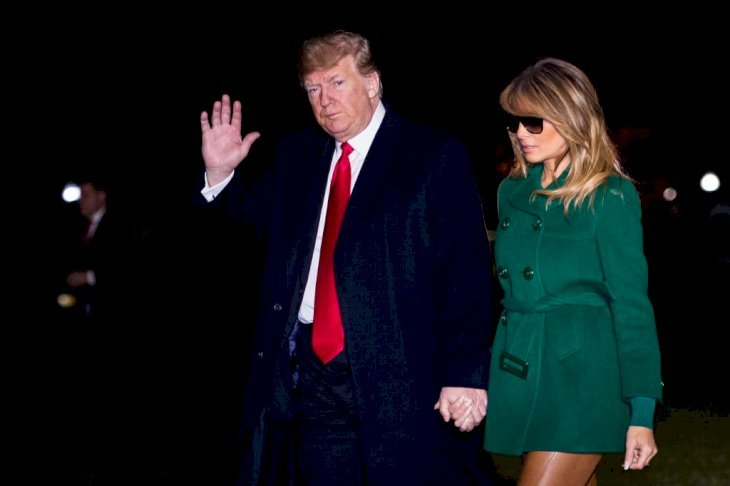 Source: Getty images/GlobalimagesUkraine
James concluded that Donald had used his "stage time to create more of a celebrity-looking appearance than a presidential one." That's why his "body language in 'celebrity' mode like this shows the man in his natural environment, dominating the spotlight while performing some ritualistic tie-signs to his audience to suggest – like most stand-up comics – that he is actually just one of them."
The president visited Iraq amidst his shocking decision to remove 2,000 US soldiers from Syria. On Thursday, he told the military troops in Iraq:
"We're no longer the suckers, folks. We're respected again as a nation. If we see something happening with ISIS that we don't like, we can hit them so fast and so hard they really won't know what the hell happened."
He added:
"We've knocked them silly. I think a lot of people are going to come around to my way of thinking. It's time for us to start using our head."
After visiting in Iraq, the Trumps stopped off at the Ramstein military base in Germany. While there they refueled and met service members who were carrying "Make America Great Again (MAGA)" hats.
The presidential couple then flew back to the US in the early hours of Thursday morning.
Please fill in your e-mail so we can share with you our top stories!