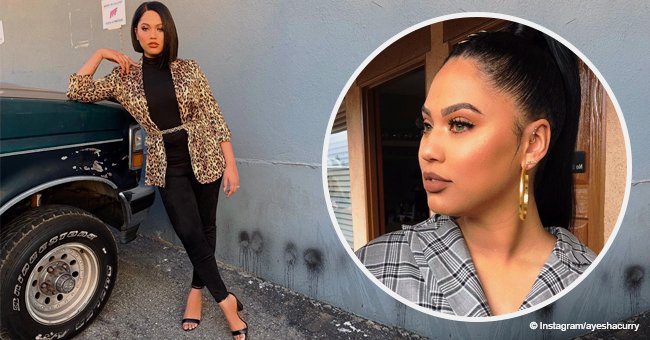 Ayesha Curry reveals she had work done after plastic-surgery rumors
Ayesha Curry, the wife of NBA professional player Stephen Curry, was in an interview in the "Rachel Ray Show" wherein she addressed her plastic-surgery rumors.
During the Rachel's Roulette segment of the show, the 29-year-old lady was asked to reveal the weirdest or funniest rumors that she has been involved in. After thinking about it for a while, Ayesha talked about her breasts.
ADDRESSING THE RUMOR
"The funniest rumor that I've ever heard about myself is that I got my boobs done and it was funny because I totally did. And I couldn't figure out how the heck they noticed," admitted Ayesha.
Even though she didn't need to reveal the reason why she got a breast augmentation, Ayesha pointed out that she nursed her first daughter – Riley – for 15 months, so "a Kit Kat wasn't going to fix this."
REVEALING HER HIDDEN TALENT
Apart from briefly talking about her plastic surgery, Ayesha also sang, admitted that the nicest thing someone wrote on social media was that she was a role model, and even revealed her hidden talent.
"My hidden talent is that I can slap-up the bass. I can play the electric bass. I was in a jazz band in middle school, my dad was a musician growing up, and so I learned from him, and I love to have jam sessions and funk out. I remember a few things," shared Ayesha.
DONNING PAJAMAS
Her participation in the show took place almost two weeks before the celebrity chef uploaded photos and videos with her family all decked in colorful yuletide pajamas. The five Currys spread love all around by posing in front of their Christmas tree and showering the proud mom with kisses.
While beautiful, it is not the first time that they have done so as it has become a sort of tradition in the Curry household. For this year, they put on dark blue outfits with red and green details, but last Christmas, they chose a green and white one.
The recent one is quite different, though, as they added little Canon, who was born in July this year, to the pic. They took the fun outdoors, too, as Ayesha later uploaded a clip of the family playing in their backyard.
Riley and Ryan, the couple's elder children, appeared tossing snow at their father while Stephen also threw some flakes at himself. Ayesha, who was right next to her husband, was trying to shield Canon from the snow.
Please fill in your e-mail so we can share with you our top stories!