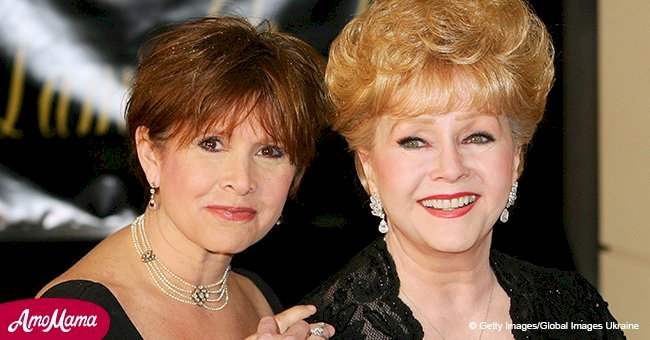 Debbie Reynolds reportedly foresaw Carrie Fisher's death
Two years have passed since the daughter and mother died one day apart from each other, making the public think of the strong connection that existed between the two.
First was 60-year-old Carrie Fisher, who had a heart attack in the middle of a flight from London to Los Angeles and died a few days later at the hospital on December 27. The world was shocked by the news of the departure of a legend.
Fisher was immortalized in the big screen with her role as the fearless rebel leader Princess Leia Organa in the "Star Wars" franchise, a role she had just reprised for the most recent sequels of the science-fiction film series.
While the world was still in denial over the loss of Fisher, on December 28 came the incredible news of her mother, 84-year-old actress Debbie Reynolds, also dying from a severe stroke. Read more on our Twitter account @amomama_usa
,
Reynolds was one of the last living legends from Hollywood's Golden age, a multitalented performer who cemented her career with her breakthrough role in the musical "Singin' in the Rain" in 1952.
A PREMONITION
Reynolds longtime friend Sue Cameron, known for uncovering Hollywood secrets as a writer, was very close to the late star on her final year, and according to her, Reynolds had foreseen the death of her daughter.
Cameron claims that Reynolds shared with her that she had had a premonition about Fisher not being able to make it home for Christmas on that year. The story seems like out of a supernatural film.
"I made it a point to go over every three weeks to see Debbie, and on that last day that I saw her, on Dec. 21, she told me she had had a vision the night before. She called it an 'experience with death.'"
-Sue Cameron, People, December 27, 2018.
HAUNTED BY DEATH
Cameron went on to tell that Reynolds "felt death come over her," describing it as a "weighty cloud" above her as she lied on her bed. Because of her age, Reynolds allegedly assumed that "death" was there for her.
"Debbie said, 'I guess it wasn't for me,' but in hindsight, I realized the cloud settled over the exact spot where Carrie always sat on Debbie's bed," Cameron added.
Two days later, Fisher's heart failed when she was returning to the US to celebrate Christmas, and instead of going back home to her mother, she was taken to a hospital from which she was not going to get out alive.
JOINING HER DAUGHTER
Reynolds didn't have too much time to mourn her daughter, and with her vision still fresh in her mind, more so after her prediction became true, she followed Fisher to the afterlife.
Cameron, who knew Reynolds for over 40 years, believes that the Hollywood mother and daughter had a connection that is beyond her understanding.
"I would almost call it pre-ordained. It was as if they had arrived here from another universe and they were supposed to play this out. They were bonded and almost locked together," Cameron said.
REYNOLDS WANTED MORE TIME
Cameron also shared that Reynolds had said to not being afraid of death and been "ready to go" after having a "wonderful life," but that her only worry was leaving Fisher behind.
With her daughter gone, she didn't have to worry about that anymore, and it might be tempting to conclude that she actually wanted to die now that Fisher was gone, to join her.
But as Carrie's half-sister Joely said in an exclusive interview with "Good Morning America" aired on January 3, 2017, is not so much that Reynolds didn't want to live but more that she just couldn't because of her heartbreak over Carrie's passing.
"She kept saying that she wanted more time. I knew that if Carrie wasn't going to survive this, that Debbie would not. You knew it. You could see it in her face. She would not last without [Carrie] on the planet," Joely said.
AN UNFORGETTABLE PERFORMANCE
For those who wonder how such an otherworldly connection looks and sounds like, there is, fortunately, a testimony of it caught on video.
In 2011, Reynolds and Fisher made an appearance together on "The Oprah Winfrey Show," where the two performed the songs "You Made Me Love You (I Didn't Want to Do It)" and "Happy Days Are Here Again."
As the mother-daughter duo sang the classic hit songs, the love and respect between the two of them shined brightly.
Please fill in your e-mail so we can share with you our top stories!