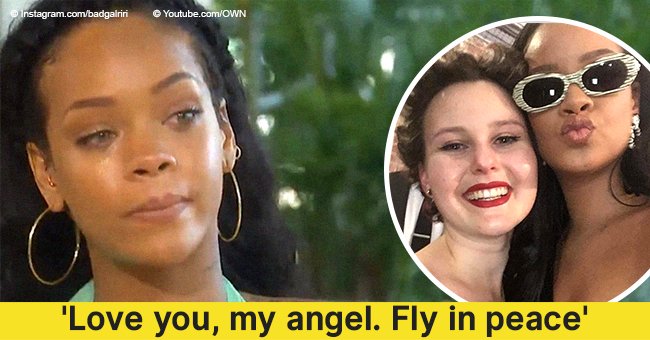 Rihanna reveals she's 'heartbroken' after devoted fan passes away following cancer battle
Rihanna mourns the death of her friend and devoted fan, Monia, of cancer.
Pop star Rihanna is grieving over the death from cancer of her devoted fan and friend, Monia.
The young woman passed away on December 27, and the singer posted a heartfelt tribute in her Instagram account.
"Most of our friendship she's spent in a hospital or doctor's office! This picture was just a few months ago, she looked at me and said: "Rih the cancer is back" I'll never forget the fear in her eyes this day."
A FAN WHO BECAME A FRIEND
Rihanna, 30, shared a selfie she took with Monia in London in June, when she met the young woman.
The singer also shared a video of herself hugging Monia on their first meeting. Rihanna was impressed by Monia's courage and determination, and the two became personal friends.
Rihanna confessed to being profoundly moved and shaken by the loss of her friend at such a young age.
AN ONGOING BATTLE WITH A DEADLY DISEASE
Monia had gone into remission, but earlier this month she discovered that her cancer was back. She shared her news on Instagram, and Rihanna left her an encouraging message:
"Sis we are all praying for you! Your strength and your ability to let the beauty in your spirit shine through, even in the midst of adversity, is tremendously inspiring!"
SAYING GOODBYE TO A BELOVED FRIEND
The "Umbrella" singer was shattered by the news of Monia's demise, and posted several photos of her friend adorned with a halo and captioned:
"Navy Angels! This Christmas, we lost a beautiful spirit who was such a pillar of strength to us!"
Rihanna confessed to being profoundly moved and shaken by the loss of her friend at such a young age, and after her prolonged battle and suffering.
ANOTHER FAN DIED OF CANCER
This is not Rihanna's first experience with the tragic loss of a young fan to cancer. In 2016, she was introduced by the rapper Drake to Megan Flores, who had met the rapper through the Make-A-Wish Foundation.
On learning of her death, both Drake and Rihanna took to social media to pay tribute to Megan.
Drake posted an emotional tribute to the young woman:
"Rest in peace my angel. I know heaven is celebrating today.Thank you for the moments and emotions we share. I am blessed to have known you in this lifetime."
Rihanna spoke about meeting Megan, and how inspired she felt by her courage and her strength:
"After my show in Miami, @champagnepapi (Drake) introduced me to Megan! She's inspired me so much with her strength and her perspective on life! So fearless and kind!"
In a related story, pop-star Rihanna paid tribute to her late grandmother Dolly 6 years after her passing.
Please fill in your e-mail so we can share with you our top stories!