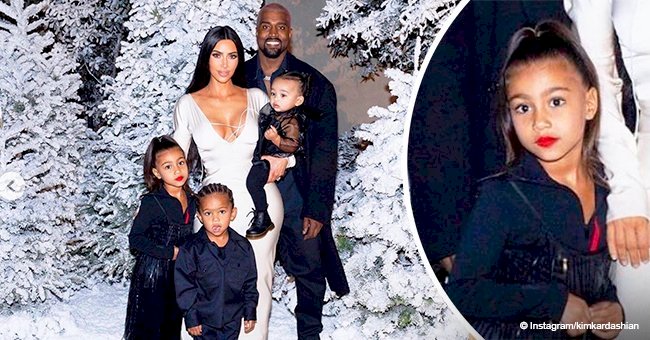 Kim Kardashian gets dragged for allowing 5-year-old North to wear lipstick in Christmas photos

Kim Kardashian has always let her eldest daughter North do whatever she wants when it comes to makeup, but it seems her fans think she's gone a little bit too far this time by allowing her to wear a bold red lipstick during one of their family photoshoots.
For Christmas, the Kardashians headed to their celebrations in style, with Kim dressed in a white floor-length gown while the rest of her family donned black ensembles. While they all looked good individually, people couldn't help but notice how Kim and Kanye's 5-year-old daughter North was wearing a bright red lip which they felt was completely inappropriate for her age.
Kim shared several snaps with her husband and their three children on social media, and it has been quite the talk of the town. It's not just that she allowed North to wear red lipstick that bothered people, but the fact that her caption was completely beneficial to her and her company alone.
"It just might be a new Classic Red Lip I have launch VERY soon."
On Instagram, people did not hold back with their comments, saying that Kardashian-West was teaching her child to be superficial at such a young age.
"Really Kim Nori is wearing red lipstick teaching her to be superficial from a young age"
"Thank god Beyonce is keeping you away from her kids"
"North is too young for makeup. Control [your] kids sheesh. Let kids be kids."
"Nice pic but why does your baby girl have on lipstick? What is wrong with you?"
On Twitter, people had the same sentiments about North wearing makeup.
"Make up on a little girl... why tho?"
"Why is north wearing red lipstick, I wasn't allowed to wear it until I was sixteen."
Allowing North to wear makeup isn't new to Kim, as there were actually a couple of instances in the past where she even let North do her makeup in a daring video that she posted on social media as well.
At such a young age, Kim is already teaching North to show interest in makeup. After all, that's the reason for some of the business mogul's wealth now that she has a KKW makeup line.
Please fill in your e-mail so we can share with you our top stories!