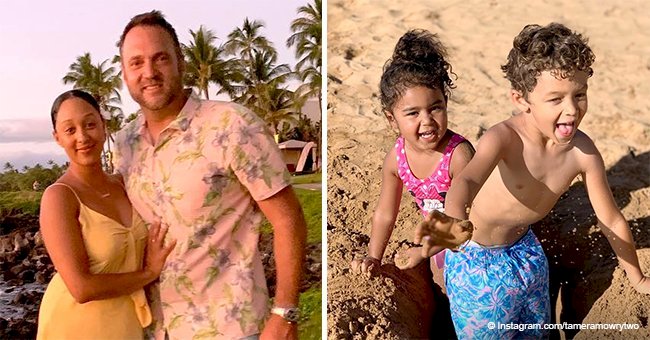 Tamera Mowry shares photo of her 'beach babies' playing in the sand during family trip in Hawaii

The Mowrys are in Hawaii for the holidays, and twins Tia Mowry-Hardrict and Tamera Mowry-Housley made sure their children had some adorable photos they could, later on, look back at when they're older.
With Hawaii's pristine beaches accessible to the Mowry family, they made sure to spend a lot of time on the sand, trying to soak up the sun and enjoy the ocean breeze.
Tamera's husband Adam casually snapped a photo of her two kids, Ariah and Aden, digging up a hole in one of Maui, Hawaii's pristine golden sand beaches. Dressed in a pink swimsuit and blue swimming shorts, the two siblings adorably played inside the hole they dug for themselves.
In one particular photo that the twins shared on social media, their four children cozied up beside each other as they smiled for the camera. While it seemed as if the children were having a good time in their tropical destination, it turns out that the story behind the photo is even more adorable.
There are times when those who are in charge of taking photos end up smiling behind the camera just because of how precious the moment is. That's exactly what happened to Tia and Tamera, who revealed they were giddy as can be while taking photos of their precious little ones.
In her caption, she wrote:
"Someone should have taken a picture of the parents trying to take a picture of them. This was a moment! Gawd I love these children. What a blessing."
It's been such a treat for Mowry fans to see how much their family has been enjoying their vacation, as they've been sharing numerous photos of themselves, mostly their kids, on social media. Take a look at the montage of photos they've taken, proving that even as world-famous celebrities, sometimes the simple life is much more satisfying when you spend it with those you love the most.
Please fill in your e-mail so we can share with you our top stories!