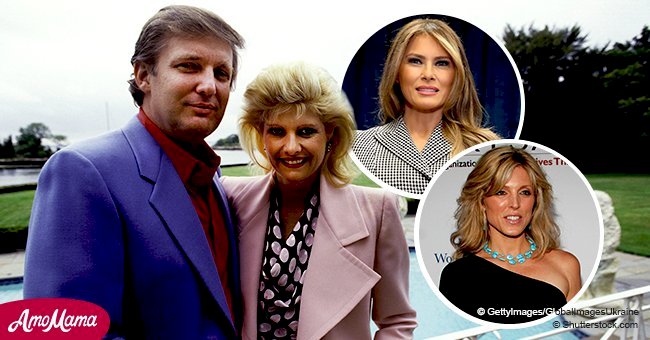 Donald Trump once said he was not sure he would marry again after his divorce from Ivana Trump
Decades before he successfully ran for the US presidency as a Republican, billionaire Donald Trump experienced his first divorce, and he didn't imagine he was to marry twice again.
In September 1990, a 44-year-old Trump appeared on the "Joan Rivers Show," where he addressed his very public divorce from his first wife Ivana and discussed his plans of marrying again, as People reminded us all recently.
As doubtful as the businessman sounded at the prospect of embarking on a new marriage back then, it only took three years for him to make up his mind and make his controversial romance with model Marla Maples official.
That second marriage only lasted six years, but it resulted in daughter Tiffany being born in 1993. It was long after that, in 2005, when Trump married his current wife, first lady Melania. Read more on our Twitter account @amomama_usa
UNSURE ABOUT MARRYING AGAIN
"Do you think you will ever get married again?" late Joan Rivers asked Donald Trump almost 30 years ago, to which he answered, "I really don't know. It's sort of a difficult right now in terms of that."
Trump's womanizing reputation followed him to the presidency, as his past scandals and allegations of sexual misconduct have resurfaced now that he is occupying the most prominent position in the country.
During the hour-long episode of the talk show, Rivers asked the future president of the US about his many rumored affairs.
"If you had slept with every woman they [the media] claimed you slept with…" Rivers started to ask, with Trump interrupting her to reply, "I'd be dead. One way of the other, from whatever or from whatever."
"You have a big smile on your face," Rivers pointed out. "Happy but dead," he teasingly said, making her add: "But you did fool around, seriously."
Apart from Trump's relationship with women, Rivers went on to ask the real estate investor about his political aspirations.
Whether he wanted to keep them a secret at the time or he simply had not seriously thought about it, he uttered: "I don't think I'll be running for public office."
THIRD WIFE, FIRST LADY
Although Donald and Melania got married long after, the two started to date back in 1998, which means that they have been together for more than 20 years. In that time, the couple has had to endure numerous infidelity scandals.
Things have arguably become more difficult for the Trump's since Donald announced his running for office in 2015, with political enemies mining his private life to make him less appealing to the public.
One of the biggest controversies that have haunted Donald Trump since he became president of the US is his alleged affair with former porn star Stormy Daniels, who claims to have been involved with him in 2006, just a year after he married Melania and months after the two had a son, Barron.
This case has ever been taken to court, with Donald Trump's former lawyer Michael Cohen pleading guilty of making illegal contributions to the Trump campaign in the form of a payment to Daniels to keep the affair a secret.
The press was anxious to know what Melania had to say about her husband's rumored affair with Daniels, and her refusal to share her thoughts and feelings on the matter made others make assumptions about her.
A negative comment against Melania, made by TV host Yvette Nicole Brown from "The View," reached the White House in October 2018 when Press Secretary Sarah Sanders slammed Brown for her "disgusting attacks" on the first lady.
"Is it possible that she's not concerned with his mistresses because she was one of them? Is that possible that it doesn't affect her in that way?" Brown in response to an interview in which Melania said to have "more important things to think about" than her husband's extra-marital adventures.
Please fill in your e-mail so we can share with you our top stories!