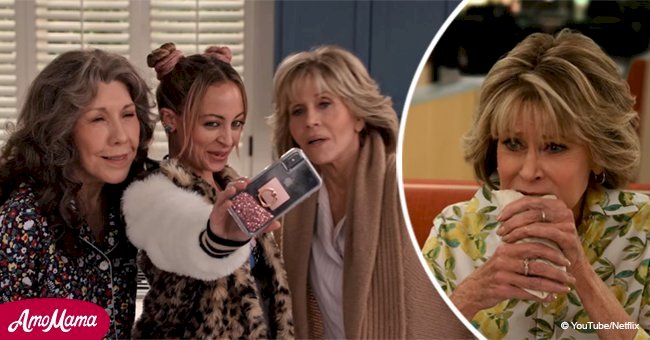 Jane Fonda and Lily Tomlin take selfies in new 'Grace & Frankie' trailer
The fifth season of the Netflix series, Grace & Frankie is set to premiere on January 18 with Fonda and Tomlin still as funny as ever. The short clip showed us some selfie moments.
Netflix's hit comedy series, Grace and Frankie would soon return to the screens. The media company recently released a trailer hinting fans on what to expect in the new season.
The teaser opened with the ladies finding out that their children had conspired to sell their beloved luxury Malibu beach house, because of concerns for their age and health.
While they were explaining themselves, Frankie's (Tomlin) son, Coyote asks what they would do if either fell or had a stroke while alone; to which Grace (Fonda) retorted 'F**k it!' setting the tone for the new season.
The duo then broke back into their old house, where they were accosted by guest star "RuPaul" who plays Benjamin Le Day; a character described as 'a formidable and quick-witted adversary' of Grace and Frankie. Le Day then accuses them of breaking in.
Fans are also to expect a behavioral change in Frankie. In the short clip, Frankie said she's getting back to the way she was, using the words 'raw', 'uncompromising' and 'dangerous' to describe her new self.
Grace, however, did not like the new Frankie too much, complaining about having to bail her out one too many times. When Frankie explained that she was trying to 'find something,' Grace sarcastically responds that she cannot find her glasses even when they are on the top of her head.
Other things to expect in the new season include a reappearance of Nick Skolka, Grace's love interest, played by Peter Gallagher. There are also scenes of a wedding, proposed to be that of Frankie's son Bud and Allison.
Interestingly, just as Grace and Frankie share a deep friendship onscreen, Fonda and Tomlin share the same, maybe even more profound, friendship off-screen. The ladies had been admiring each other after appearing in respective projects, Fonda in 1971's Klute and Tomlin in 1977's Appearing Nitely.
From there, they went on to star in the comedy film 9 to 5, alongside country singer Dolly Parton. The movie was so much of a hit, that not only are they thinking of a remake, it went on to become the 20th highest grossing comedy film in history.
After that, their friendship only grew from strength to strength. Besides their Hollywood activities, the ladies have also engaged in activism together, one of which was a Women's March in Los Angeles, which involved about 750,000 people.
Follow us on our Twitter account @amomama_usa to learn more.
Please fill in your e-mail so we can share with you our top stories!