Each Kardashian-Jenner newborn girl received a Louis Vuitton bag from Kim Kardashian on Christmas
The famous family hasn't been shy when it comes to flaunting the luxury holiday celebrations and expensive gifts they gave to each other this year, and now, another gift Kim gave the little girls of the clan surfaced.
On January 8, 38-year-old TV personality and socialite Kim Kardashian took to her Instagram Stories to share a picture of the expensive presents she got for her two daughters and four nieces to open on Christmas morning.
As the "Keeping Up With The Kardashians" (KUWTK) star revealed in the social network feature, she picked up eight small Luis Vuitton bags for the little girls in the family in a trip she made to Japan.
The designer bags have an estimated cost of about $1.200 each, for a total of $9.600, which caused outrage among some users. Read more on our Twitter account @amomama_usa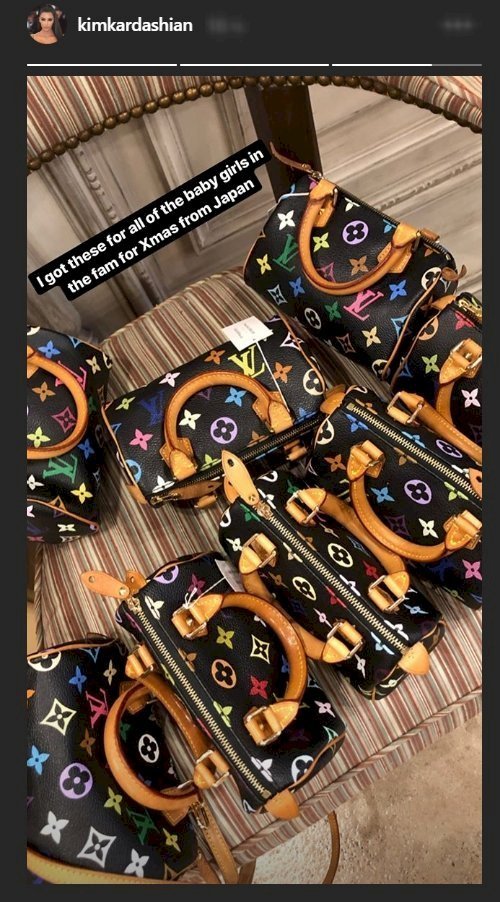 Some people took to Twitter to comment about what they consider excessive, calling the purchase "ridiculous" and accusing Kim of being a "bragger."
"So ridiculous! Those babies won't need those bags, send the money to some babies that need food and shelter! It's a shame people buy so much and don't share the money where it's needed, nice bags though but just a little selfish."
-"@boston59_devina," Twitter, January 8, 2019.
Despite the indignation some people showed as a result of Kim's "confession," there were many others who expressed their delight over the luxury presents when 21-year-old Kylie Jenner shared a video of her little Stormi receiving one of the bags on Christmas Day.
"She's perfect. A girl's gotta have her handbag," wrote "amberndelp." "I love how she's so attracted to the bag, haha. Gets it from her mom," added "biancaasofia" in the comments section of Jenner's Instagram post.
Apart from commenting on the family's expensive taste and wealth and how they are or aren't spoiling their children, some observant fans who noticed that there were 8 bags and only 6 girls related this fact to the rumors surrounding Kim and her husband Kanye West expecting a fourth child via surrogate.
While the Kardashian-Jenner keep been criticized and questioned for their parenting methods, Kim has kept featuring her children in her social media, where she always can count with her most loyal and supportive fans.
In a recent opportunity, Kim let her daughter North try out her new beauty line KKW's makeup kit as part of her promotional plan. Kim hilariously let the 5-year-old practice on her face.