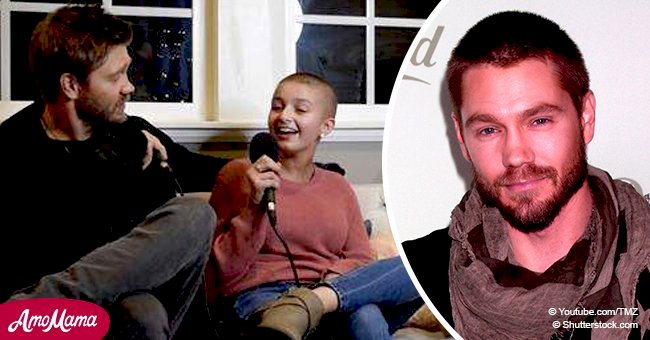 'One Tree Hill' star Chad Michael Murray surprises 3-time cancer survivor in emotional video
The One Tree Hill actor, Chad Michael Murray, made an 18-year-old cancer survivor's festive season even more special by suddenly appearing while she was recording a podcast of Just Between Us.
Alexandra Wilson is an 18-year-old cancer survivor whose cancer story began with a diagnosis of Stage 4 neuroblastoma which later went into remission. Two years later, she was diagnosed with Ewing's sarcoma, which grows in and around bones. She was seven years old at the time.
She underwent surgery to remove the tumor in her clavicle, then went into remission again at age 8 and was cancer free for eight years until she had a heart attack.
At age 17, she was diagnosed with neuroblastoma again.
'I went through another whole year of chemo and radiation, and here I am. I'm in remission,' she said.
Throughout her battle with the disease, she kept herself occupied with One Tree Hill, and even got her grandma in the show.
Wilson recounted her ordeal in a podcast of Just Between Us, mentioning a number of her favorite things and named Chad Michael Murray as her favorite actor. It was at that moment that the podcast hosts, Bailey Madison, and Kaitlin Vilasuso sprang the surprise on her and Murray walked in.
TMZ posted a video of the meeting in which Wilson looked shocked but happy when Murray entered the scene. He could also be heard asking for a hug from Wilson.
Reacting to the incident through an Instagram post, Wilson said, 'I swear, I didn't cry or lose my cool until Chad walked in.' The post comprised many pictures including one where she was seated next to her actor crush.
Murray also related his hospital experience, stating that it was television shows that helped him cope when he was admitted to the hospital for intestinal surgery due to a football injury in his teens. The relief he got from TV also inspired him to become an actor, so he could help entertain people to keep their minds off their conditions. He named Scooby Doo and The Simpsons as shows that he really benefitted from.
Wilson related the experience to E!, saying:
'Honestly, I never would've thought I'd have the opportunity to meet any celebrity. Chad is so down-to-earth and such a family man. I admire him so much.'
She also mentioned a connection she felt with him when he shared his own hospital experience.
'It made me feel like he was less of a celebrity, and more of a genuine person just like me,'
Indeed, everyone should endeavor to show love to those passing through a difficult time just like Murray did. Kudos to him!
Follow us on our Twitter account @amomama_usa to learn more.
Please fill in your e-mail so we can share with you our top stories!