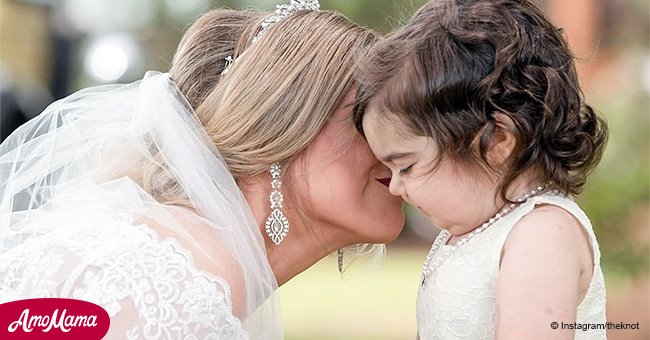 3-year-old cancer survivor is flower girl at the wedding of her bone marrow donor
A 3-year-old girl has a special bond with the woman who saved her life
Hayden Hatfield Ryals, 26, played a very important part in the life of 3-year-old Skye Savren-McCormick. She saved her life.
Little Skye had been diagnosed with juvenile myelomonocytic leukemia in March 2016, just before her first birthday. In order to survive the disease, she needed a bone marrow transplant, and the person who was compatible with her was Ryals.
The Be the Match organization requires donors and recipients to wait one year after the transplant before they can make contact, and when that time had passed, Ryals reached out.
The two 'fell in love' and Ryals was determined that Skye would play a major part in the most important event of her life: her wedding - reported ABC News.
"I was feeling really down about everything. I was having trouble finding myself and feeling like I had a purpose. So the more that I talked to this coordinator with Be the Match, I started feeling like what if this is my purpose?"
Hayden Hatfield Ryals, ABC News, 1st of July 2018
For Ryals, Skye was a turning point in her life. She was 23 years old when Be the Match told she was a match for a baby girl with leukemia.
Ryals had enrolled as a donor in college. The process was simple, a cheek swab sent in an envelope. She never imagined that she would be a match, or that the experience would enrich and empower her as a person.
Talia Savren-McCormick, Skye's mother, credits Ryals with saving her daughter's life, and she was thrilled when she asked her daughter to participate in her wedding.
Skye walked down the aisle carrying her flowers, dressed in her pretty dress and wearing a special gift from Ryals - a bracelet of pearls inscribed with her name.
The most moving photograph in Ryals wedding album is undoubtedly the one in which she is tenderly kissing her tiny flower girl.
The bond between the two is powerful, a bond of love and gratitude, but for Ryals the opportunity to help tiny Skye gave meaning to her life.
Please fill in your e-mail so we can share with you our top stories!