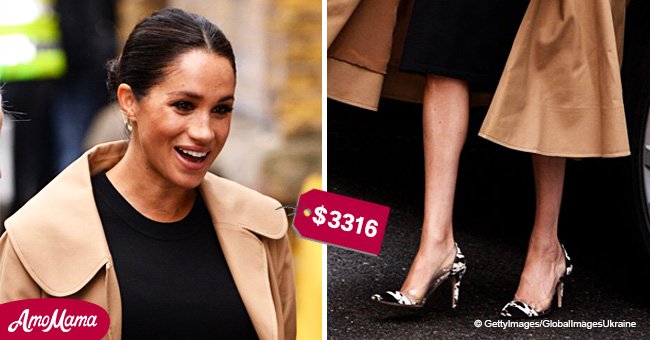 Meghan Markle flashes huge bump in discreet outfit at her first public engagement of 2019
The Duchess of Sussex attended a Smart Works event in West London on Thursday morning. She helped pick outfits for other women while her own ensemble showed off her glorious bump.
Markle, 37, wore a black dress and had her hair in a simple low bun. She entered the St Charles Hospital in north Kensington donned in a long brown coat over her dress. A video tweet from Kensington Palace is found below.
The royal family announced the Duchess' inheritance of the patronage just this morning. As Markle met with the women looking for work, she shared her expertise.
Follow us on Twitter for more @amomama.
The charity works towards finding employment for untrained, vulnerable women. Markle assisted by providing them with the right looks for future interviews.
According to the Daily Mail, the coat she spotted cost £2,600 and was designed by Oscar de la Renta. Her £179 maternity dress from Hatch was also quite professional.
While modest, the baby bump protruded from Markle's slim figure. At her feet, she showed off a pair of £500 black and white Giovanni Rossi PVC pumps.
Markle has visited the charity over the past year. Her new patronage puts her in a position to now do so in a public light.
She said:
"I'm so happy to be here. You guys know I've been quietly coming by... close to a year. It's nice to be able to now do it publicly and really talk about the work that you do."
In addition to talking, the duchess styled some of the women at the event. Many of them expressed how their confidence soared afterward. Patsy Wardally, 56, received a gorgeous brown coat from Markle.
The Duchess was also pleased with the difference she was making.
She explained:
"It's not just donating your clothes and seeing where they land. It's being part of each others' success stories as women. It's not hand me downs, it's saying 'okay, this is the blazer I wore that helped me with that interview and I want this to be the piece that helps a woman have that part of her story."
The Queen also honored Markle with new roles as patron of the National Theatre, the Association of Commonwealth Universities (ACU), and Mayhew, an animal welfare charity.
The theatre and educational charities were formerly under the Queen's patronage for 45 and 33 years respectively. The National Theatre encompasses various artistical expressions from different cultures.
The ACU is focused on bringing higher education to society through international collaboration. It aims to empower minorities. It further helps to alleviate issues like climate change, human trafficking, and modern slavery.
Markle is taking on a lot of humanitarian projects as part of her new status. However, the former "Suits" actress still has ongoing family drama.
The Duchess' father, Thomas Markle, claims that he has not spoken to his daughter since she married Prince Harry. Recently, his son tried to help the situation.
Thomas Markle Jr. will marry his fiancé, Darlene Blount, in March. He announced that he will invite his royal half-sister to the wedding. The Duchess' estranged brother thinks it may help mend the family's apparent split.
Meanwhile, the expecting mother continues to perform her increasing royal duties. So far, she is certainly off to an eventful start for the new year.
Please fill in your e-mail so we can share with you our top stories!