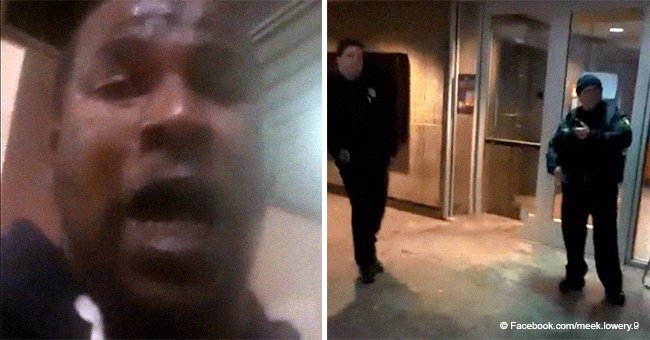 Man who stumbled into police station begging for help & water while on Facebook Live dies

A 27-year-old man claimed to be high on ecstasy and stumbled into a police station while making going live on Facebook. He begged for help and water before he dies in the custody of police.
An investigation into the death of a man claiming to be high on the drug ecstasy has been launched. The man had stumbled into a New Jersey police headquarters while broadcasting his final conscious moments on Facebook Live.
During the Live he alleges police were going to kill him. Two days later Jameek Lowery, 27, was pronounced dead at a hospital.
Lowrey had showed up in an agitated state at the Patterson Police Department headquarters. He had claimed to be high on Ecstasy and begged for help and water before alleging that police were going to end his life.
"I want justice. I need the truth, and I'm going nowhere until I get the truth," Lowery's mother, Patrice King, said at a Paterson City Council meeting on Tuesday night.
The meeting held by the City Council was attended by several hundred protesters. They joined the victim's mother to demand answers around the death of the young man.
Passaic County Prosecutor Camelia M. Valdes revealed that her office is investigating the circumstances surrounding Lowery's death. She added that authorities were waiting for the results of the autopsy from the New Jersey Regional Medical Examiner's Office.
In a preliminary investigation, it was concluded by the hospital that although "police used physical force and compliance holds to secure Mr. Lowery in an ambulance," the body "indicated no acute trauma."
Valdes revealed that Lowery had called 911 at about 2:45 a.m. on Saturday. In the call, he tells the operator that he had taken ecstasy and was paranoid.
An emergency medical services crew from the Paterson Fire Department responded to his call. They then took Lowery to St. Joseph's University Medical Center in Paterson.
"Mr. Lowery left the hospital sometime after becoming erratic at the hospital," Valdes's statement reads.
Lowery then called 911 again at about 3:42 a.m. on Saturday. He was claiming people were trying to kill him in the area of Broadway and Memorial Drive, near Passaic County Community College. Three minutes after placing the second 911 call, Lowery stumbled into the lobby of the Paterson Police Department headquarters and began broadcasting on Facebook Live.
"I need water. I thought I was gonna throw up," Lowery told three officers standing in the lobby during his Facebook Live broadcast. He later added, "Y'all gonna kill me. They're gonna kill me. Please help me. Mom, I'm sorry. They're gonna do this to me. They're gonna kill your baby boy. Alright, go ahead and kill me. Please don't shoot me."
A police officer told him, "Just relax" but declined his request for water. The broadcast ended when an EMS crew arrived at police headquarters.
"Paterson Police and Paterson Fire Department records indicate the transportation from headquarters to the hospital took approximately five to twelve minutes," Valdes said in her statement. "Upon arrival at the hospital, Mr. Lowery was unresponsive."
Please fill in your e-mail so we can share with you our top stories!