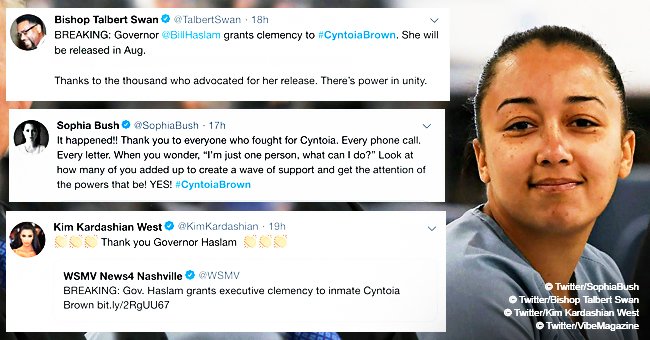 Cyntoia Brown is granted clemency after being sentenced to life at the age 16
Cyntoia Brown says "thank" you after being granted clemency while serving a life sentence for murdering a man in her teen years.
After serving fifteen years in prison for murdering a man who solicited her for sex when she was only 16, Cyntoia Brown will finally have a chance to live life outside bars. She was recently granted clemency and will be released in a few months.
STATEMENT ABOUT HER CLEMENCY BY THE GOVERNOR OF TENNESSEE
Brown, who was serving a life sentence of 51 years will be released on parole on August 7 as revealed in a statement from the office of Tennessee Governor Bill Haslam. The statement also read,
"Cyntoia Brown committed, by her own admission, a horrific crime at the age of 16.
"Yet, imposing a life sentence on a juvenile that would require her to serve at least 51 years before even being eligible for parole consideration is too harsh, especially in light of the extraordinary steps Brown has taken to rebuild her life."
WHY BROWN WAS CONVICTED
Brown ran away from her adoptive family in her teen years and ended up in the hands of a pimp. She was originally convicted for murder and robbery after she was believed to have shot Johnny Mitchell Allen in the head while he was sleeping. Allen had solicited her for sex. Prosecutors at the time didn't see the murder as self-defense but rather a pre-meditated one with Brown stealing money from Allen and taking his truck before fleeing the scene.
Brown defended herself by saying she was afraid for her life due to Allen's behavior which prompted her to shoot him. She said she stole money for fear of returning to her pimp empty-handed.
BROWN'S CASE REVISITED
After more than a decade, Brown's case was resurrected when celebrities came forward to show support for her and lobbied for her early release. Among them were Kim Kardashian and Rihanna who saw her as a victim than an offender.
Brown's case was also revisited after a documentary about her life called "Me Facing Life: Cyntoia's Story" was released in 2011. The film which depicted her traumatic experiences which led her to a troubled life also shed light on a condition Brown had called Fetal Alcohol Syndrome. It was believed to have been caused by her mother's excessive intake of alcohol while pregnant with her.
BROWN'S RESPONSE TO HER CLEMENCY
Following news of her clemency, Brown issued a statement through her lawyers expressing her gratitude.
"Thank you, Governor Haslam, for your act of mercy in giving me a second chance. I will do everything I can to justify your faith in me."
She added,
"I am thankful for all the support, prayers, and encouragement I have received. We truly serve a God of second chances and new beginnings. The Lord has held my hand this whole time and I would have never made it without Him. Let today be a testament to His Saving Grace."
Brown also revealed in her statement where she thanked people who have been helpful to her that she is currently in the middle of completing her Bachelor's degree and will be done by May 2019.
She ended her message by committing her life "to helping others, especially young people."
STARS CELEBRATE BROWN'S VICTORY
Kardashian was among the celebrities who also expressed their gratitude upon hearing the good news of Brown's impending release. She tweeted "Thank you, Governor Haslam." Actresses Alyssa Milano, Jada Pinkett-Smith, and Sophia Bush also took to Twitter to express their sentiments.
Please fill in your e-mail so we can share with you our top stories!