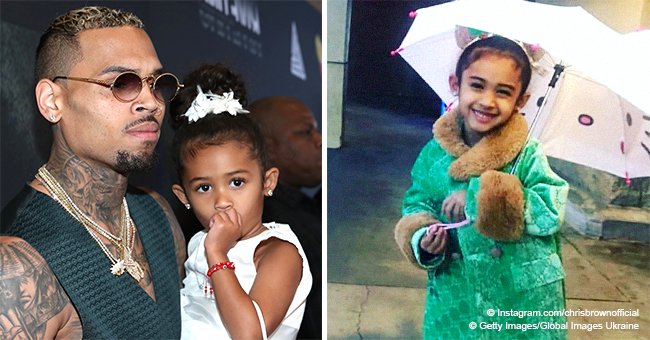 Chris Brown shares photo of his little 'princess' under a kitty umbrella

Chris Brown had a wonderful Christmas with his beautiful daughter, Royalty and proudly shared the adorable picture during their time out.
And with 2019 still fresh it brings with it a new year with new beginnings. Chris made his plans to spend Christmas with Royalty public before the holidays last year, and fans were delighted when he posted the sweet picture taken on Christmas day.
Alongside the adorable snap, he captioned it simply, "Princess," and messages of appreciation soon came in one after the other. As one follower commented:
"You can tell she is a genuinely happy little girl! Great job Breezy."
While another follower added:
"Yes, pink and green! Teaching her well."
She may be four years old, but Royalty brown is already taking after her dad. She had already developed her sense of dress and stepped out looking stylish like dad Chris.
She wore pink pants with matching boots, a green fur-lined coat, a pair of glittering earring with a cat-ear headband. She was prepared for the weather as she held up an adorable Hello Kitty umbrella while sweetly smiling at the camera.
Posted on January 8, it's clear from the smile on her face that Royalty had a great time with dad on Christmas. And she has shown in more ways than one how much she takes after singer father, Chris Brown.
Royalty's sass and big personality love an audience; whether it is with dancing to one of dad's songs at a concert or singing lyrics she made up dressed in Christmas PJs while dancing on a stepladder, it's evident that the 'Brown' blood is running strong.
Chris loves spending time with Royalty and regularly posts updates of her self made performances on social media.
But who Chris spent time with on New Year's Eve is what surprised fans — being at odds with each other for a while now no one suspected Chris Brown and Drake to spend NYE together.
It would appear that the two had sorted out their differences, as Chris attended a party hosted by the 32-year-old rapper, Drake on December 31, 2018.
The two were pictured spending time together, which Drake posted to his Instagram account with the caption, "2019 cook up…Aubreezy." a term of endearment that combines Browns name with Drake's real name, which is Aubrey.
Chris Brown did land himself in a spot of trouble for his Christmas gift to little Royalty and face criminal charges.
Singer dad bought her capuchin monkey, which they named Fiji, without a permit and got charged with the illegal ownership of an exotic animal.
The California Department of Fish and Wildlife executed a search warrant at Chris Brown's home and confiscated Fiji, who got taken to a sanctuary afterward and is reportedly doing well.
Consider following if you are on Instagram. Or read more on our Twitter account @amomama_usa or both!
Please fill in your e-mail so we can share with you our top stories!