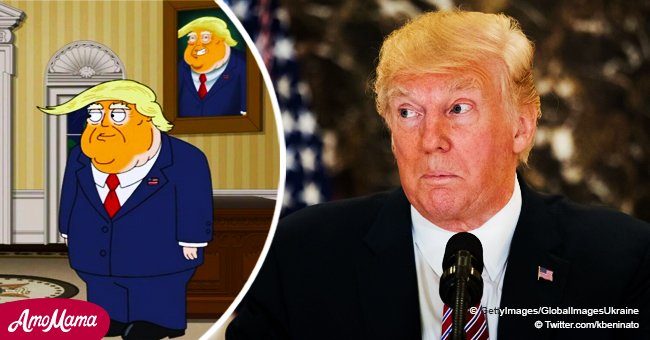 Donald Trump's character being mocked in a famous American cartoon sparks tons of controversy
On Sunday night, Fox aired another episode of "Family Guy" featuring a character that was meant to depict President Donald Trump. The president, his daughter, her husband, and even the vice president were mocked.
Fans who watched the show took to social media to share their thoughts. The views were split between those who found the episode tasteless and those who just loved it.
On the recent episode of "Family Guy," Peter Griffin was hired as Trump's new press secretary. The show sparked controversy for showing a character that was supposed to be President Donald Trump groping Peter's daughter Meg Griffin.
"What would your third wife — the soft-core, girl-on-girl porn lady — think about this? Or the actual porn star your lawyer paid hush money to?"
For more on this story go to our Twitter account @amomama_usa. On the animated series, Meg is a character who is in high school.
The show's producer Rich Appel explained the episode:
"It's clearly offensive and gross and not appropriate. But not only didn't we not want to show it, we don't want to be too explicit about exactly what happened."
When Meg tell her parents, including her mother Lois Griffin, what happened they initially didn't believe her. Appel further explained:
"Our point was that Peter and Lois found it hard to believe at first that the president could be accused of an unwanted touching, but as is so often the case, people who question someone's reporting of an unwanted touching realize they need to take it really seriously, and that's what happens in the episode."
Eventually, Peter catches Trump attempting to assault his daughter. On the episode he says:
"What would your third wife — the soft-core, girl-on-girl porn lady — think about this? Or the actual porn star your lawyer paid hush money to?"
The scene with Meg was a reference to Trump's alleged affairs and the "Access Hollywood" tape in which he bragged about groping and kissing women without their consent. "Family Guy's" producers shared that they used the sexual harassment scene to show that men like the president could attempt to prey on vulnerable people.
The show also mocked Trump's hair, hands, tan, and his finances. While speaking to the president about his wealth Peter said:
"Billionaire? Please. You're worth $700 mil on the high side. And most of that is borrowed or tied up and underwater. That's why you ain't releasin' your taxes, Trump. You're cash poor!"
The show also went after Vice President Mike Pence, press secretary Sarah Sanders, Senate Majority Leader Mitch McConnell, the president's daughter Ivanka Trump, and her husband and Trump's close adviser, Jared Kushner.
While speaking to Meg about a makeover, Ivanka said:
"When I'm done with you, you'll be pretty enough to marry an Orthodox Jewish son of a felon who's too stupid to get into Harvard the normal way."
Meg asks, "And whose voice is way higher than you thought it would be?" At that moment Kushner walks in and speaking in a child's voice says, "Hi, honey. Ready for dinner?"
In the end, Peter resigned from his position and got into a fight sequence with Trump. Appel added about the episode, "I think you could say: As Americans, we're horrified. As comedy writers, we're gratified."
"Family Guy" has in the past mocked former President's Bill Clinton, George W. Bush, and Barack Obama.
In the past, the animated show "The Simpsons" predicted the chaos that would erupt from the Trump administration. You can read here about seven different occasions where the show was spot-on.
Please fill in your e-mail so we can share with you our top stories!