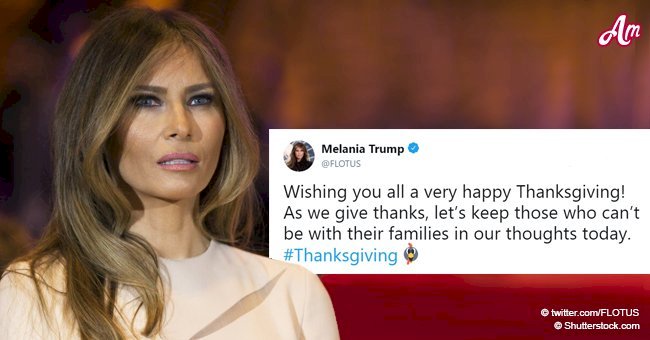 Melania Trump's Thanksgiving message triggers some fans, sparking a controversial debate
Critical responses to the First Lady's Thanksgiving Day tweet arose after it got announced last week that troops sent to the border will remain in position throughout Thanksgiving.
Melania Trump's first tweet on Thanksgiving read:
"Wishing you all a very happy Thanksgiving! As we give thanks, let's keep those who can't be with their families in our thoughts today."
Her message was not received well by many, evident by the influx of negative comments that soon followed. One commented:
"Do you mean the troops your husband sent to the border for a political stunt, which failed.. ?"

Source: Twitter/Melania Trump@FLOTUS
"You can thank the POTUS for keeping troops away from family and friends this Thanksgiving."

Source: Twitter/Melania Trump@FLOTUS
Many other tweets followed along similar lines. Donald Trump made it clear he did not care much that they would be away from their families for Thanksgiving as he said earlier in the week:
"Don't worry. These are tough people….You're so worried about the Thanksgiving holiday for them. They are so proud to be representing our country on the border."
The Democratic Senator for Hawaii, Brain Schatz criticized the decision to send troops to the border and said:
"Deploying troops to our border for no national security reason is one of the biggest scandals of this presidency. These dedicated, skilled, highly trained men and women will likely miss Thanksgiving with their family, are near American cities but eating ready-to-eat meals. Let them go home."
The presidential couple's body language has been rather business-like over the Thanksgiving period. According to body language expert Judi James, they are attempted to create warmth with their color scheme. However, their body language tells a different story.
Donald Trump comes across in control and businesslike, even on the rare occasion he made physical contact with Melania as they held hands. In her gestures, Melania is the one that seeks proximity as she leans into him. Judi added:
"As usual we have the President hailing the masses in a stand-alone pose as his wife either waits a pace away or has to lean into the group pose from a spot in the back row behind her husband."
Somewhat of a departure from the festive styles of previous presidents, and Melania is not the only one to receive backlash on her Thanksgiving tweet. Husband Donald found himself in the same boat when he started off Thanksgiving by tweeting:
"It's a mean & nasty world out there, the Middle East in particular. This is a long and historic commitment, & one that is absolutely vital to America's national security." @SecPompeo I agree 100%. In addition, many Billions of Dollars of purchases made in U.S., big Jobs & Oil!"
Two minutes after his tweet chastising the world and the Middle East he sends out another tweet wishing everyone a happy Thanksgiving.
The purpose of the tweet was to defend his administration's decision to continue their support of Saudi Arabia after the killing of journalist Jamal Khashoggi.
Twenty minutes later he reverted to his old ways as he took a stab at the Supreme Court Chief Justice John Roberts who rebuked Trump's criticisms of the 9th Circuit judge who ruled against the president's asylum ban. According to Donald Trump, no judge should have any say in immigration matters as he tweets:
"They know nothing about it and are making our Country unsafe. Our great Law Enforcement professionals MUST BE ALLOWED TO DO THEIR JOB! If not there will be only bedlam, chaos, injury and death. We want the Constitution as written!"
One thing is sure, the Presidential pair's Thanksgiving messages did not sit well with many American's this year.
Please fill in your e-mail so we can share with you our top stories!