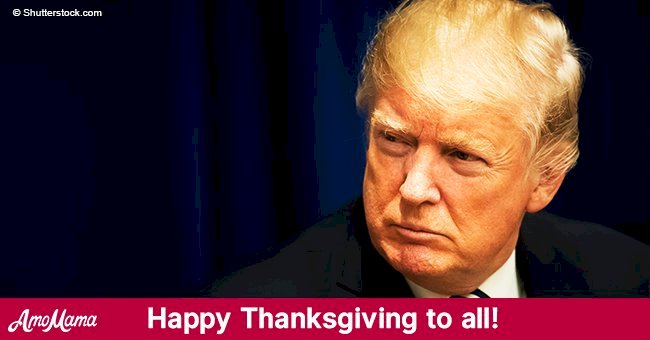 'It's a mean & nasty world': President Trump shares his first Thanksgiving tweet
The first tweet of President Trump on Thanksgiving is to chastise the world and particularly the Middle East as he sides with Secretary of state Mike Pompeo.
President Trump quoted his words early Thursday morning in his tweet:
"It's a mean & nasty world out there, the Middle East in particular. This is a long and historic commitment, & one that is absolutely vital to America's national security."
Read more on our Twitter account @amomama_usa.
Trump added his own thoughts as means of defending his administration's decision to continue their support of Saudi Arabia after the killing of journalist Jamal Khashoggi and said:
"@SecPompeo I agree 100%. In addition, many Billions of Dollars of purchases made in U.S., big Jobs & Oil!"
The President then sent out his next tweet where he said, "HAPPY THANKSGIVING TO ALL!"
Reverting to his usual self, President Trump then hit back at the Supreme Court Chief Justice John Roberts who rebuked Trump's criticisms of the 9th Circuit judge who ruled against the president's asylum ban.
On Thursday he wrote on Twitter that 'judges must not Legislate Security and Safety at the Border, or anywhere else and said:
"They know nothing about it and are making our Country unsafe," he said. "Our great Law Enforcement professionals MUST BE ALLOWED TO DO THEIR JOB! If not there will be only bedlam, chaos, injury and death. We want the Constitution as written!"
While Trump made his thoughts clear on judges and his immigration policy, he got criticized for the Thanksgiving getaway to Mar-a-Lago while thousands of American troops got ordered to deploy.
On order of Trump himself, troops got sent to the southern border in anticipation of the arrival of thousands of Central American migrants.
Donald Trump told reporters on Tuesday, just ahead of leaving for Mar-a-Lago, that Americans should not worry about the 5,000 troops stationed at the southern border.
He had toned down his loftiness about the migrants notably since the midterm elections. He focused instead on the troops he sent to the border and spoke to them via teleconference on Thanksgiving Day and praised them for their efforts.
Over the years Donald Trump had started off the holidays with some questionable and controversial tweets, with this year being no exception.
For those that would like the reminder of some of Trump's thoughts in earlier years on his Thanksgiving messages, Trump tweeted on November 26, 2014:
"Happy Thanksgiving - I hope everyone can get together to MAKE AMERICA GREAT AGAIN! It won't be easy, nothing is, but it can be done."
Later he sent out his next tweet thrashing the previous administration and said:
"@RafaelMerrydel1: The Carter Family Thanksgiving will be a bit happier as Obama officially becomes the worst President in history."
In 2013 he sent out only one Thanksgiving message as he wrote on November 27:
"Happy Thanksgiving to all -- even the haters and losers!"
On November 21, 2012, he started the holiday cheer as he wrote on Twitter:
"HAPPY THANKSGIVING to everyone -- I love you all, even my many enemies (sometimes!)."
Three days later Trump expressed his gloomy view of America as he tweeted:
"Hope everyone enjoyed their Thanksgiving. But get ready, our country is in big trouble!"
Meanwhile back to the here and now in 2018, Donald Trump received a fair amount of backlash coming from multiple sides. One side came from Alec Baldwin who recently vented on Twitter about the President and called for Trump to be ousted as he wrote:
"The United States has a National Socialist tumor in its body, and it is growing day by day. This alone should compel you to do everything in your power to get rid of Trump."
Last month the left wing activist also made his position on the current administration clear as he said:
"It is time to overthrow the government of Donald Trump -- not in a violent way or unlawful way -- but it must be overthrown nonetheless. Let's make America great again by making Donald Trump a casino operator again."
Please fill in your e-mail so we can share with you our top stories!