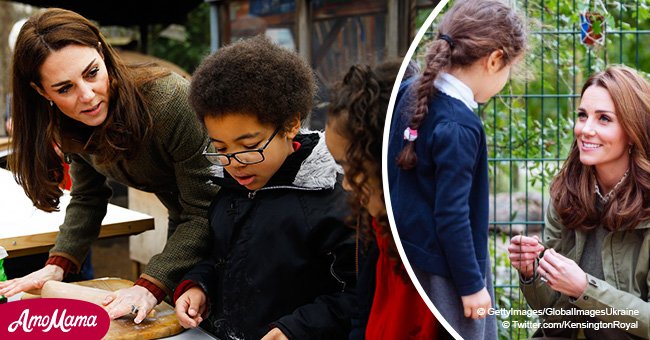 Kate Middleton shows off her country style in a tweed jacket making pizzas with adorable kids

On January 15 Kate Middleton attended her first royal engagement for the year visiting a great community project.
The Duchess of Cambridge was elated to visit King Henry's Walk Garden in Islington, north London, and see how their community have come together through food growing and gardening.
Kate helped the local school children make bird feeders, and she got introduced to the idea of an open-air pizza kitchen.
Later on, the Duchess noted that George and Charlotte would be jealous of making pizzas with kids from nearby St Paul's and St Jude's Primary School, as they had fun selecting their ingredients, building their pizzas before baking them in an outdoor oven.
Having just turned 37, Kate chatted with Year 4 youngsters while rolling out her dough, as eight-year-old Nadirah asked:
"Has the Queen ever eaten pizza?"
Smilingly Kate answered:
"That's such a good question, I don't know,' smiled the duchess. 'Maybe next time I see her shall I ask?"
During her visit to King Henry's Walk Garden, Kate could see how the local community got brought together through the project.
The two children with whom Kate made bird feeders gave her a few feeders as a gift. Kate smiled happily at the present and thanked them:
"I love this, thank you very very much. Aren't these illustrations beautiful? I've had such a fun time."
While having fun in the open air pizza kitchen, it got announced that Kate will design a garden at this year's famous Chelsea Flower Show. Renowned as the world's best flower show, the royal family have supported the event for many years, and Kate will be a part of it.
Kate's involvement aims to encourage families and children to make the most of and enjoy all that nature has to give through her garden. It will be designed as a woodland featuring natural materials and wild plants.
The Duchess has been working on the garden for the past three months and will continue to do so until the flower show in May.
Named by Kate, the garden is called the "RHS Back to Nature Garden" with many award-winning architects that collaborated in the design including Adam White and Andree Davies, from Davies White Landscape Architects.
A spokeswoman for Kensington Palace said:
"The garden seeks to recapture for adults the sense of wonder and magic that they enjoyed as children, in addition to kindling excitement and a passion for nature in future generations."
While feeling passionate about the preservation and proper utilization of what nature has to offer, Kate is also passionate about issues surrounding mental health.
During a series called "Young Minds Matter' Kate spoke out about mental health issues in young people and wrote in an essay about mental health:
"The mental health of our children must be seen as every bit as important as their physical health. For too long we have been embarrassed to admit when our children need emotional or psychiatric help, worried that the stigma associated with these problems would be detrimental to their futures."
The Duchess's brother, James had also suffered from issues regarding depression and mental health and recently decided to open up and share his experience. So it is understandable why the point is one close the Duchess's heart.
Early in December Kate added to her list of patronages, with adding the Evelina London Children's Hospital to the list. The hospital carers for children with rare diseases who may also require extra care.
During her and Prince William's visit to the hospital on December 10, Kate spoke with the children in a series of Christmas orientated activities that included the coloring of Christmas trees, and arts and crafts.
Middleton interacted with the young ones in a series of Christmas-themed activities including arts and crafts and coloring Christmas trees. After being chosen as one of the Duchess's patronages, the hospital's director, Marian Ridley said:
"We are absolutely delighted and deeply honored The Duchess of Cambridge has chosen to become our Patron. The Duchess shares our passion for giving children and young people the very best start in life, and Her Royal Highness' support will help champion the life-saving care our staff are providing to our patients."
Consider following if you are on Instagram. Or read more on our Twitter account @amomama_usa or both!
Please fill in your e-mail so we can share with you our top stories!