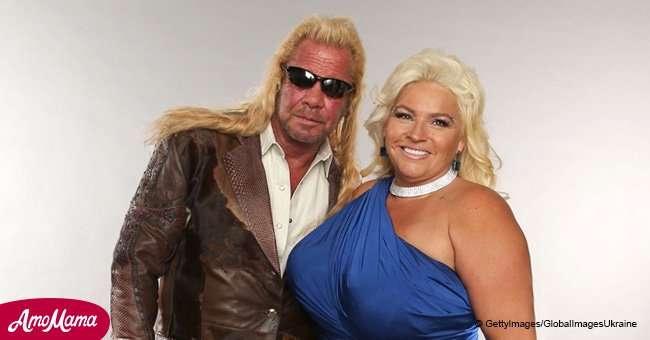 Wife of 'Dog the Bounty Hunter' Beth Chapman has plea for fans after announcing new show
The bounty hunting couple is returning to the TV screens soon and is trying to warm fans up to the new show.
In what would be heartwarming news for fans of the reality television program, Dog the Bounty Hunter, and all the spinoffs that had generated from it; the American bounty hunter Duane Lee 'Dog' Chapman and his wife, Beth Chapman will be hitting the screens very soon.
The new series named "Dog's Most Wanted" will be shown on WGN America network. While there is no specific premiere date yet, the TV series is expected to debut sometime in 2019.
Trying to rouse up fan support for the upcoming series, Beth Chapman took to Twitter to get it trending on social media.
'Let's show @wgnamerica how we make Dogs Most Wanted #DogWgna trend #DogPound let's get busy are you happy to have us back let's roll it guys,' she tweeted on Monday.
Us Weekly reports that the reality series, which will be the first unscripted series shown by the network, will air in 10 parts. It will follow Dog and his wife as they apprehend criminals who are on the FBI, US Marshals and States' Most Wanted Fugitives list.
'Crime in America is skyrocketing! Criminals are finding it easier to avoid the system,' - Dog
He went on to state that the time could not be more auspicious for 'the World's Greatest Network to bring back the World's Greatest Bounty Hunter,' warning fugitives to 'Beware!'
Dog and Beth Chapman first hit the reality TV stage starring in the hit series Dog The Bounty Hunter which aired on the A&E network between 2004 and 2012.
The couple then returned to TV in 2017 for a special titled Dog and Beth: Fight of Their Lives, shown on A&E, which chronicled Beth's battle with cancer. Beth was diagnosed with the condition in September of 2017 and underwent a risky surgery as part of treatment.
Hopes of beating the disease was dashed in November 2018, after an emergency procedure to remove a blockage from her throat revealed that the disease had returned.
It was a trying time for the family, with Lyssa Chapman, the couple's daughter saying:
'We are all so devastated. We love our Mommy so much and thank you guys for being here. We got such an amazing [outpouring] from our fans and we just really appreciate it... Poor daddy.'
Thankfully, with Beth's recent sexy posts on Instagram and staring in the new series; it would seem there is much improvement as regards combatting the disease.
Follow us on our Twitter account @amomama_usa to learn more.
Please fill in your e-mail so we can share with you our top stories!