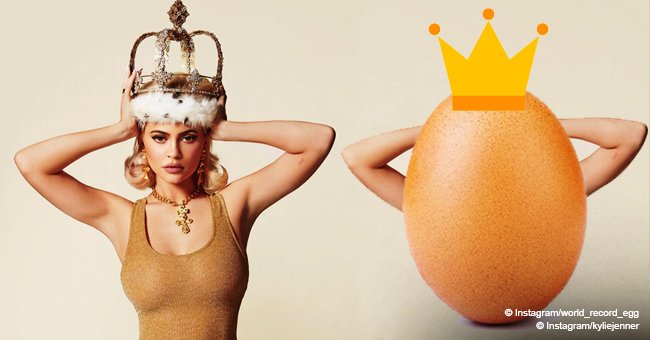 Kylie & egg Instagram war: the 21-year-old makeup mogul responds to new most-liked photo
Kylie Jenner and her sisters dominate social media and have some of the highest numbers of followers on Instagram. The makeup mogul was the holder of the world record for the most liked picture on the social media app until someone decided to change that with a picture of an egg.
Back in February last year, when Kylie Jenner surprised the world with the announcement of baby Stormi's birth, she caused quite the stir on social media. A photo of her then newborn baby holding her hand went viral, earning over 18 million likes ever since.
The photo had the world record of the Instagram photo with more likes for months, but then, on January 4, someone created an account titled "World record egg," and posted a single picture of an ordinary, brown egg with the caption:
"Let's set a world record together and get the most liked post on Instagram. Beating the current world record held by Kylie Jenner (18 million)! We got this."
One week later, the egg has earned over 40 million likes already, and the number keeps increasing.
While most of the people responsible for breaking the record have been encouraging others to keep widening the gap, and mocking Jenner about dethroning her, the 21-year-old has taken the situation with humor.
Kylie took to Instagram to share a hilarious old video of her trying to fry an egg on the hot pavement. "Take that little egg," she captioned the clip, earning a good laugh from her fans for being such a good sport about it.
However, some trolls and haters didn't get the joke, calling Kylie immature, jealous, salty and more, stating that it's sad she's competing over likes on a pic. Some even went as far as to accuse the star of wasting food on purpose where there are so many kids starving around the world.
Jenner is clearly unbothered by the negative comments, and she has already moved on from the whole egg situation.
Instead, she settled on promoting her makeup brand and her Calvin Klein deal, posting a selfie and a pic in her underwear immediately after sharing the mentioned video.
As for the person behind the egg, no none has been able to identify them. However, the account is now verified and they are looking forward to getting the world record on most comments, Instagram stories views, and more.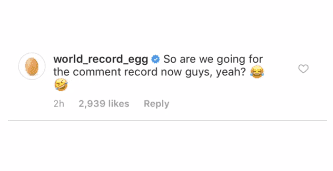 Source: Instagram/world_record_egg/
Please fill in your e-mail so we can share with you our top stories!