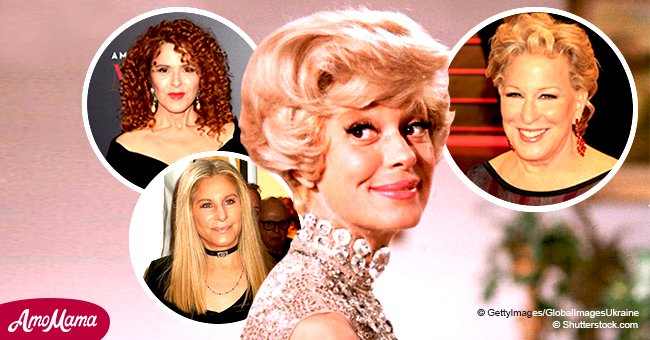 Celebrities take to Twitter to pay tribute to late Carol Channing
Carol Channing left her mark on stage and in the hearts of several other stars. They took to Twitter to remember her and pay tribute.
The Broadway icon passed away on January 15 at the age of 97. She left behind a legacy of timeless performances for others to enjoy and be inspired by.
Channing also left broken hearts of those who knew her and loved her. Several of them posted messages of farewell on their social media.
Better Midler, who played the role of Dolly Gallagher Levi in a "Hello, Dolly!" revival, spoke to PEOPLE about the loss. Channing was perhaps best known for the show.
Midler said in a statement:
"There was only one Carol Channing, and there will never be another. She was that rarest of stage creatures, an absolute original. From her instantly recognizable voice, to her stature, which was close to 6 feet, with her wide-eyed take on the world she crept into theater-goers hearts and took up permanent residence there."
"When Scott Rudin invited me to play Dolly in 2016, I immediately thought of her and went to visit. How could I not? She had played the part over 7,000 times around the world, and to the world, she WAS Dolly. It was one of the great afternoons of my life."
She described the occasion:
"She was gracious and she was generous, sharing with me the legends, the lore and the mechanics of Dolly, much of which had been lost in time. I will forever be grateful to her for lighting my way to one of the most magical experiences of my performing life, and for the hours I spent in her company."
Midler went on to win a 2017 Tony Award for the performance. She wrote a shorter message in a tweet:
"The great, the legendary #CarolChanning has died at age 97. She was a complete original, and there will never be another. Blonde, 6 ft tall and utterly hilarious, she was a legend. My condolences to the world; to those who knew her or saw her and those who never got the chance."
Broadway stars Lin-Manuel Miranda and Bernadette Peters also shared heartfelt sentiments. Miranda took hers out of a "Hello, Dolly!" song, ending with "Goodbye Carol."
Peters retweeted Miranda's message and added her own thoughts: "She was show business and love personified."
Actress Sandra Bernhard was admittedly obsessed with the actress and Broadway legend. She said:
"I am so sad just lost my incredible original inspiration #carolchanning I saw her in Hello Dolly when I was 8 and she changed my DNA love you lady forever one of the greatest entertainers of all times."
Other celebrities like Ryan McPhee, Rosanna Arquette, Josh Gad, Viola Davis, Stacy London, George Takei, and Louis Armstrong also said their goodbyes.
The "Hello, Dolly!" tour plans to do an honorary performance on January 16. The same day, Broadway will freeze their operations and dim theater marquees for one minute at 7:45 p.m. to commemorate Channing.
Channing has received one Tony Lifetime Achievement award following her 40-year stint in Broadway. Her first big role was as the star in "Gentlemen Prefer Blondes."
She died of natural causes at her home in Rancho Mirage, California at 12:31 a.m. She is survived by her son Carson Channing.
Please fill in your e-mail so we can share with you our top stories!