Terrence Howard shares video with his growing son, 3, showing their striking resemblance
Terrence Howard took to Instagram to share an adorable clip that shows his love and adoration for his eldest child, Qirin, just a few days after he proposed -once again- to ex-wife Mira Pak.
The "Empire" actor is the proud father of two adorable boys from his relationship to Mira Pak, Qirin, 3, and Hero, 2. He also has three more children from previous relationships, daughters Heaven and Aubrey and son Hunter, as well as two grandchildren.
However, these days Howard is enthralled by his mini-me, Qirin, and his loving gaze watching the kid had fans gushing about what a great father Terrence is in one of his most recent Instagram posts.
In the clip, Howard and Qirin are seated side to side on what looks like a private jet. Qirin downs a bottle with water as his father watches with amusement. A giraffe plushie rests on the table in front of them, as the pair quietly enjoys the airplane ride.
"My little big man...Q!" Howard captioned the clip.
Fans immediately filled the 50-year-old's comment section with their thoughts about the father-son exchange:
"@happi.fit: Terr looked at him like "damn I love this little boy."
"@transporter0524_: That is your MINI YOU. YOU COULD NOT DENY HIM IF YOU TRIED..."
"@petiteprintstudio: Your sweet gaze to your son. Congrats on all the goodness happening to you and your lovely family @theterrencehoward."
The video was posted only a couple of days after Terrence shared the great news with his fans: he proposed, for the second time, to the mother of his kids, ex-wife, and long-time partner Mira Pak.
THE SURPRISE PROPOSAL
The couple first tied the knot in 2013, and then quietly got a divorce in 2015. However, it didn't take long for them to find their way back to each other, and Mira attended the Emmys that same year alongside Howard.
Now, two kids, a divorce and almost four years later, Terrence surprised Mira with a beautiful rose gold 7-carat VVS diamond engagement ring, created by celebrity jeweler Ben Baller, on a special dinner with family and friends.
The 49-year-old shared pics of the moment he slid the ring on Pak's finger, as she wiped away some tears.
A BEAUTIFUL LOVE DECLARATION
He also posted a video of a toast he made afterward, declaring his love for the woman as he said:
"We have an idea of how long we think life is, but we do know how short it can be. It took me 45 years to find you. But now that I have you in my 50th year, I will spend the rest of eternity at your side. And I pray that everybody finds that one that will complete them for all eternity because it means everything. I love you."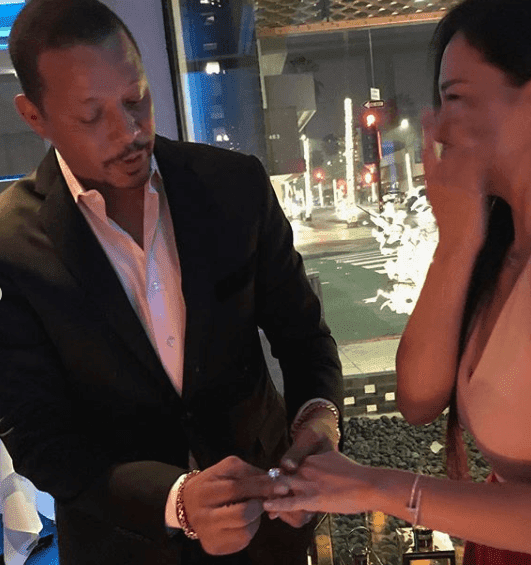 "I love you too baby," Mira replied, as the people around clapped and cheered for the couple.
"2nd times a charm to rekindle that fire," Baller captioned a close-up Instagram video of the ring. Hopefully, this time around Terrence and Mira's love story will have a "happily ever after."