Mom brought to tears as baby daughter laughs after hearing sister's voice for the first time
An 11-month-old baby girl was given hearing aid that allowed her to hear voices for the first time. Her first reaction to hearing her elder sister's voice is truly heart-melting.
Carol Benjamin from Madison, Georgia gave birth to Scarlet almost three months early, which led her to develop an intestinal disease, necrotizing enterocolitis (NEC). The antibiotic treatment for this caused her hearing impairment.
The baby girl now has a hearing aid fitted at Atlanta Hearing Associates, Georgia. Thanks to her hearing aids, Scarlet is now able to absorb sounds around her including the voice of her loved ones.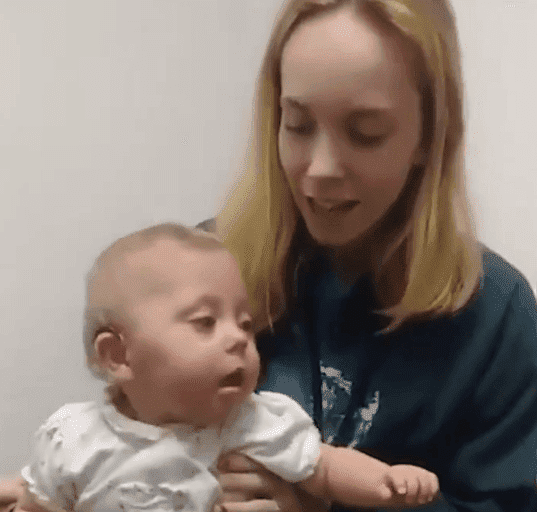 One of such voices was of Scarlet's elder sister, Halie. When she called out to Scarlet, the baby girl immediately burst out into laughter. The video of her adorable giggles was caught on camera and has now gone viral.
The video sees Halie calling Scarlet, "Baby sister," and Scarlet immediately turns into a cute giggler who just can't stop.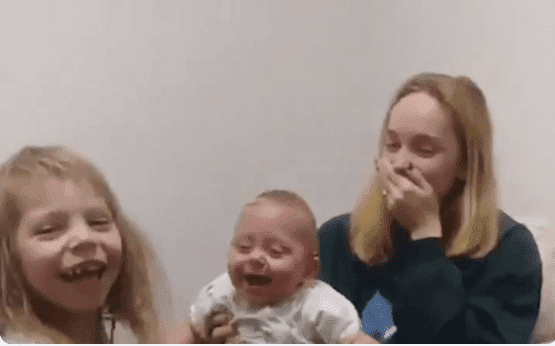 The emotional mother can only watch in delight as her baby girl hears and reacts to voices for the first time and shows her excitement through laughter and screams.
At one point in the video, Scarlet scares herself by screaming too loud. Carol said in an interview on Good Morning America, "It was amazing. She screamed really loud and scared herself. It was really cute."
INFECTIOUS LAUGHTER: Adorable baby girl can't hide her happiness at hearing her sister's voice clearly for the first time after getting fitted with hearing aids. https://t.co/sRB8OWSEI6 pic.twitter.com/mC3z94dL7U

— ABC News (@ABC) January 16, 2019
Carol explained how Scarlet started to listen to absorb all the sounds around her and "freaked out" at first. "I shut the car door and she looked at me like, 'Mom did you hear that?'"
Sister love is amazing, the joy of both girls show it and a proud happy mom.

— Soqui Med (@MedSoqui) January 16, 2019
The elated mother further expressed her hope that her daughter's video might encourage others to not take gifts like hearing for granted.
Previously, a two-month-old baby also melted the hearts of millions with her adorable reaction upon hearing her mother say "I love you" for the very first time.
Charlotte was born hearing-impaired and had to be fitted a hearing aid before she could listen to voices. When she heard her mother's voice, her eyes seemed to be in tears.