'I am proud to use my voice,' Gladys Knight to sing the national anthem at Super Bowl
Gladys Knight joins the roster of legendary artists who've sung the National Anthem at the Super Bowl. The "Empress of Soul" will be this year's opening act amid issues concerning Travis Scott's participation during the halftime show. 
Gladys Knight's 2019 couldn't have started on a higher note with news that she'll be singing the National Anthem at this year's Super Bowl.
Gladys Knight to sing national anthem at Super Bowl LIIIhttps://t.co/FaGIU3J3EV pic.twitter.com/lzPh2KCcXF

— Around The NFL (@AroundTheNFL) January 17, 2019
Knight expressed her pride to be opening the nation's biggest football event especially after learning that the NFL had just launched its new social justice initiative. 
"I am proud to use my voice to unite and represent our country in my hometown of Atlanta,"the singer says and adds, 
"The NFL recently announced their new social justice platform, "Inspire Change," and I am honored to be a part of its inaugural year."
Knight is the latest in the list of legendary artists who've sung the anthem during the celebrated event. This includes Aretha Franklin, Whitney Houston, Diana Ross, Beyonce, Christina Aguilera, Lady Gaga, and Neil Diamond.
Maroon 5 has agreed to perform during the halftime show along with Travis Scott. The latter's participation was met with opposition with artists like Common claiming the NFL does not cater to Black people. 
.@NFL confirms Maroon 5, Travis Scott and Big Boi to perform at #SuperBowl LIII halftime show https://t.co/HJXInlfk0q pic.twitter.com/m9H6iEfCVF

— billboard (@billboard) January 13, 2019
THE CONTROVERSY SURROUNDING KAEPERNICK
The rapper is referring to an incident with Colin Kaepernick who knelt during the singing of the national anthem in 2016 to protest police brutality against Black people. The former quarterback was ousted from the prestigious league since then.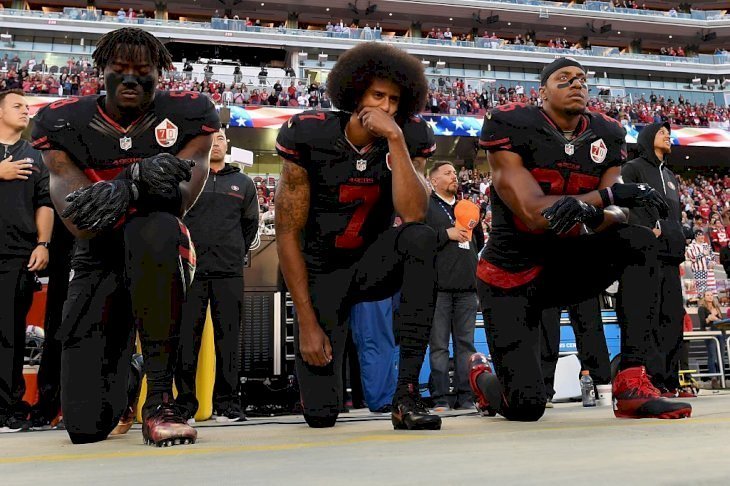 Singers like Rihanna, Cardi B, and Jay-Z understood Common's sentiments and declined invitations to perform at the Super Bowl. But Scott had a different perspective.
Sources say Scott had a conversation with Kaepernick first before accepting this year's offer. TMZ reported the former NFL player was not supportive of the rapper's Super Bowl stint but the conversation was cordial regardless.  
Colin Kaepernick Calls BS, Never Consulted with Travis Scott on Super Bowl https://t.co/7ms8eBC3Uc

— TMZ (@TMZ) January 16, 2019
Despite Kaepernick's disapproval, Scott agreed to perform with the condition that the NFL donates $500k to Van Jones' social justice organization, "Dream Corps." The league agreed. This is enough for Scott to justify his participation in the event.  
This year's Super Bowl will be held on February 3 at the Mercedes Benz Stadium in Atlanta.