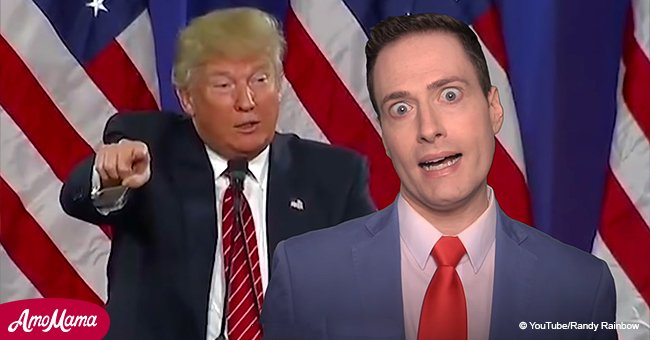 Donald Trump's wall is already an object of mockery - Randy Rainbow made a new song about it
Randy Rainbow let Trump have it in a musical parody of Vice President Mike Pence's interview.
Addressing the border wall, Randy Rainbow created his own depiction of 1949's "South Pacific" "There Is Nothing Like A Dame." He titled the song "There Is Nothing Like A Wall."
The comedian began by confronting Pence with the government shutdown situation. The clip of the song is found below.
"We are currently in the midst of the longest government shutdown in American history as the President continues to fight for his border wall."
He made fun of Pence and then poked fun at the various types of walls the President has considered building.
He suggested those arrested at the border might be hired by the government since "they'll all be convicted anyway."
Randy then broke into a song about how Donald Trump has everything he needs but a border wall. At one point, he calls the president a toddler who wants an "impractical" wall.
A number of other insults are put together in the cleverly written song which is blatantly meant to insult Trump and the proposed wall.
Towards the song's end, Randy appears to be doing a remote interview with Press Secretary Sarah Sanders. Some of Sanders' interview is played before Randy again began singing.
He concluded by calling the wall a "big, embarrassing, racist, and superfluous wall."
Randy has been creating comedic videos since 2010. His YouTube career took off in 2016 with the presidential campaign. He often does spoofs of political interviews.
The government shutdown he addressed is certainly hitting Americans hard. Roughly 800,000 federal employees are set back financially due to lack of pay.
For the country, this means that they may experience more and more flight delays at international airports. Governmental services are also expected to be cut due to workers quitting or being furloughed.
The wall that Trump so desires is still under determination as to what material might be used. He knows that he needs about $5.7 billion from Congress.
However, a recent test of a wall prototype with steel slat design failed. The military and Border Patrol personnel were able to destroy the barrier with common tools quite easily.
Supporters of the wall remain adamant despite the shutdown. Those, like Randy, who are against Trump, are eager to see systems get back to normal and hard workers get paid.
Please fill in your e-mail so we can share with you our top stories!